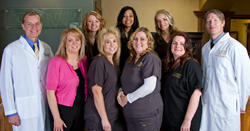 Most people who are developing cataracts don't even realize it because the condition gradually worsens over time. Dr. Brian Davis, MD
Salt Lake City, Utah (PRWEB) January 31, 2014
By the age of 80, about half of all Americans will either have cataracts or have already had cataract surgery. While it is generally recommend that people begin annual check ups for cataracts after age 60, Dr. Brian Davis of Davis Vision Center in Salt Lake City, UT is encouraging younger people to learn about the signs and symptoms of cataracts. It is estimated that about 20 percent of patients younger than 65 are candidates for cataract surgery, but many don't even know it.
"Most people who are developing cataracts don't even realize it because the condition gradually worsens over time," said Dr. Brian Davis, ophthalmologist at Davis Vision Center. "We're finding an increase patients in their 40's and 50's coming to us for cataract surgery, but we also know that there are many more younger patients out there who probably don't recognize that their vision is worsening due to cataracts. Knowing the signs and symptoms of cataracts can help people realize that checking for cataracts doesn't just start after age 60."
Cataracts are the formation of a cloudy substance of protein on the lens of the eye, which lies behind the iris and the pupil. Because the formation of cataracts blocks the amount of light that can pass through the lens, vision starts to become impaired. If not corrected over time, cataracts can block out so much light from the eye that they cause complete blindness.
Dr. Davis encourages patients to remember that if they notice colors starting to appear faded, poor night vision, cloudiness or blurriness, or glares from lamps or headlights, that it's a good idea to visit the eye doctor for a checkup. If patients also notice frequent changes in their eyeglasses or contact prescriptions, it could be another sign that they are developing cataracts. When these vision changes start interfering with daily activities and safety, Dr. Davis recommends seriously considering cataract surgery.
"Cataract surgery used to be thought of as only being for elderly patients, however, recent data is showing that isn't always the case," said Dr. Brian Davis. "With the advanced technology we have available for new artificial lenses, undergoing cataract surgery between 40-60 years of age can give the patient drastically improved vision for the rest of their life—and in some instances, they'll never need contacts or eyeglasses ever again."
Cataract surgery involves making a small incision in the eye in order to remove the cloudy lens from the eye. It is then replaced with an artificial lens, called an intraocular lens, that performs just as well—or in some cases, better—than a natural eye lens.
Dr. Brian Davis has been performing laser refractive surgery in Utah since 1996 and is one of the most experienced ophthalmologists in the state. He and his staff at Davis Vision Center specialize in cataract surgery, LASIK eye surgery, and other procedures for various eye conditions and diseases.
To learn more about Dr. Brian Davis and the services he and his staff offer at Davis Vision Center for vision correction, please visit http://www.davisvisionmd.com.