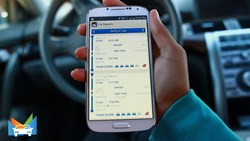 Truvolo Drive™ is a small device that plugs in to a car's standard diagnostic port turning any car into a smart car with up to the minute maintenance and usage information.
San Jose, California (PRWEB) February 01, 2014
Concerned parents naturally wonder if their child reached school safely. Busy drivers would be relieved to be alerted to their car's mechanical failures before they happen. Harried professionals often miss out on valuable tax deductions because they fail to accurately track business trips. Consumers always worry about the high cost of gasoline and could certainly benefit from knowing if their automobile is suddenly using more gas than usual or, even worse, running out of gas at the worst possible moment. And who hasn't worried about the always ominous and equally cryptic check engine light once it fires up?
Truvolo can help solve all of these issues of car ownership.
Truvolo Drive™ is a small device that plugs in to a car's standard diagnostic port. It comes with a free app that users install on their smart phone. The Truvolo app communicates via Bluetooth with the Drive to collect data while they drive and sends it to Truvolo's secure platform. The platform does all the number crunching and converts the raw data into information that is actually useful to users.
Truvolo provides users with lifetime access to their data and requires no monthly data fee commitment to realize the potential of their features. Truvolo users will also have an option for a premium subscription that provides features above and beyond standard functionality. 
Team Truvolo has been working on Truvolo for over a year and now they need funding support for tooling to enable high volume production. They believe Truvolo Drive™ will be a standard fixture in all cars as connected cars becomes the norm. 
This campaign will only receive funds if at least $100,000USD is raised by its deadline. Funding duration: January 14, 2014 - February 24, 2014 (11:59pm PT).
Indiegogo Page: http://bit.ly/1ehwaei