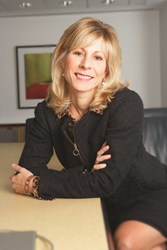 Over the past decade, M2W® has played a key role in helping me meet new clients, connect with thought leaders and become a better marketer to women.
Chicago, IL (PRWEB) January 30, 2014
Kelley Skoloda, Partner/Director, Global Brand Marketing Practice at Ketchum, and author of "Too Busy to Shop" has been named Guest Emcee for the 10th Anniversary M2W® – The Marketing to Women Conference, May 6 & 7, 2014, Chicago Cultural Center. "We're so pleased that Kelley has accepted our invitation to Guest Emcee our 10th anniversary," said Nan McCann, M2W® co-founder and producer. "Kelley is a leading expert on marketing to women and an acclaimed voice on the M2W® stage."
"Over the past decade, M2W® has played a key role in helping me meet new clients, connect with thought leaders and become a better marketer to women," Skoloda said. "I launched my marketing-to-women book, 'Too Busy to Shop', at M2W® several years ago and it's an honor and a pleasure to be named as the guest emcee for this very special, 10th anniversary year of M2W®. The opportunity to market to women is vast and continually evolving, as women represent the single biggest consumer purchasing segment in the world."
"M2W® features case studies, research, workshops, creative sessions and peer-to-peer networking all designed to help marketers learn how to build better business with women who control 85% of all consumer spending in virtually every product category," according to McCann. "Study after study has shown that women are the dominant drivers of our consumer economy. They account for $7 trillion of annual spending in the US, and over $20 trillion globally. More than ever before, here and in markets worldwide, women mean business."
"M2W® is annually attended by Fortune 1000 senior brand marketing executives and their agencies. The audience typically includes companies as diverse as Harley-Davidson, Bayer, Aetna, ESPN, Kraft Foods, Ford, GM, Johnson & Johnson, Kellogg, Diageo, Walgreens, Wells Fargo, NBA, WebMD, Burton, L'Oreal, ConAgra and Whirlpool. They attend," McCann said, "because they recognize the brand- critical importance of reaching women."
To date, M2W® 2014 is presented by Associate Sponsors: World Kitchen; iProspect; McDonald's; Trendsight Group; YWomen; Workshop Sponsors: Yahoo!; Fletcher PR; Graphic Packaging International; Showcase Sponsor: Ketchum; Video Content Resource: Snippies; Official Bookseller: PMP; Media Sponsor: Today's Chicago Woman.
For complete conference schedule and information visit: http://www.m2w.biz or call 860.724.2649 x13. M2W® is produced by PME® Enterprises LLC, 912 Silas Deane Highway, Suite 101, Wethersfield, CT 06109. PME® is a sales and marketing agency with a special emphasis on events.
About Ketchum
Ketchum is a leading global communications firm with operations in more than 70 countries across six continents. For more information on Ketchum, a part of Diversified Agency Services, a division of Omnicom Group Inc., visit http://www.ketchum.com.