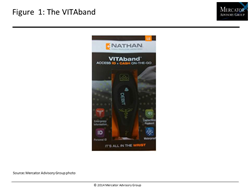 With increased contactless acceptance and the right product design, in some contexts wearable payments may replace wallets—both their physical and mobile formats.
Boston, MA (PRWEB) January 29, 2014
New research from Mercator Advisory Group, The Future Is Not in the Cards: Will "Wearable Payments" Replace Wallets?, examines how rings, wristbands, watches, and other wearable items are being used for payments.
In places such as amusement parks, museums, and schools wristbands and other wearable items are being embedded with contactless chips to enable their use as a payment device. Acceptance might be limited to a few vending machines located on a particular property, or it may include multiple unaffiliated merchants. Some have made use of the MasterCard and Visa networks to offer an open-loop product good wherever contactless payments are accepted.
Other companies have attempted to build wearable payments devices for particular psychographics. Helping runners, cyclists, and other athletes eliminate sweaty bills and cards was the idea behind one attempt at wearable payments that may have been ahead of its time.
Wearable payments exist in particular contexts. This may cause customers who use these payment forms to reexamine the ways in which they make transactions, the driving force behind one wearable payments project in the United Kingdom described in the report.
Wearable payments will take a place in the grand scheme of payments. What remains to be determined is whether they will just niches like theme parks or become a widespread form factor like cards and cash. While their future depends on the adoption of contactless technology, they also could help drive the adoption of the technology. As with mobile payments, adoption of wearable payments will come in stages that may seem disjointed.
"With increased contactless acceptance and the right product design, in some contexts wearable payments may replace wallets—both their physical and mobile formats," comments Ben Jackson, senior analyst, Mercator Advisory Group's Prepaid Advisory Service and author of the report.
Highlights of the report include:

Description of various "wearable payments" innovations with contactless chip embedded that have been deployed
New opportunities for payments form factors
The potential of wearable payments to change the way that shoppers think about payments and lead to incremental spending
Contexts in which people are most likely to adopt wearable payments, even if they can be used outside of those venues
This report is 18 pages long and contains 2 exhibits.
Companies mentioned in this report include: Apple Computing Inc., Awesome Foundation, Bancorp Bank, Barclaycard, Disney, First Data Corp., FIS, Google, Kickstarter, Massachusetts Bay Transportation Authority, Massachusetts Institute of Technology, MasterCard, NTT, Passif Semiconductor Corp., Pebble, Pervasive Media Studio, PushCoin Inc., Ring Theory, Samsung, Singapore University of Technology and Design, Starbucks Coffee Co., U.S. Bank, VITA Products Inc., VISA,
Members of Mercator Advisory Group's Prepaid Advisory Service have access to this report as well as the upcoming research for the year ahead, presentations, analyst access, and other membership benefits.
Please visit us online at http://www.mercatoradvisorygroup.com.
For more information and media inquiries, please call Mercator Advisory Group's main line: (781) 419-1700
For free industry news, opinions, research, company information and more visit us at http://www.PaymentsJournal.com.
Follow us on Twitter at http://twitter.com/MercatorAdvisor.
About Mercator Advisory Group
Mercator Advisory Group is the leading, independent research and advisory services firm exclusively focused on the payments and banking industries. We deliver pragmatic and timely research and advice designed to help our clients uncover the most lucrative opportunities to maximize revenue growth and contain costs. Our clients range from the world's largest payment issuers, acquirers, processors, merchants and associations to leading technology providers and investors. Mercator Advisory Group is also the publisher of the online payments and banking news and information portal PaymentsJournal.com.