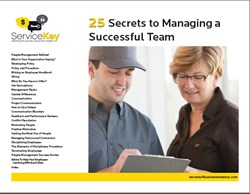 This paper is an easy resource that managers in any industry can download and keep on hand to figure out the best ways to handle anything that might come up when overseeing their team
East Brunswick, N.J. (PRWEB) February 03, 2014
With the release of a new paper available for download on his website, entrepreneur and business mentor Mike Agugliaro of ServiceKey shows business owners the keys to building and maintaining the best teams they can have.
The paper "25 Secrets to Managing a Successful Team" is downloadable on ServiceKey's website and offers managers advice on such things as hiring and firing, creating employee handbooks, how to conduct performance reviews, and how to resolve conflicts.
"I work with business owners in the home services industry, and while these guys know their industry inside and out, they sometimes struggle with effective management skills," said Agugliaro. "This paper is an easy resource that managers in any industry can download and keep on hand to figure out the best ways to handle anything that might come up when overseeing their team."
Agugliaro launched ServiceKey in December 2013, bringing more than two decades of experience building and growing one of New Jersey's largest and most well respected home services companies, Gold Medal Service, into a $20-million-a-year business, into a mentoring role. As a professional coach, Agugliaro works with other service business owners, teaching them how to "unlock the secrets of business mastery" and achieve new heights in their success.
"People management is a huge part of business success," Agugliaro said. "If your team members are happy, they'll work hard. That makes customers happy and can have a profound impact on your bottom line."
To download the entire paper, and to learn more about how Agugliaro's coaching can help business owners, visit ServiceKey's website.
About ServiceKey
ServiceKey is a business consulting and mentoring firm, providing tested and proven methods to defeat the roadblocks that prevent small to mid-sized businesses from achieving their ultimate success. By performing a meticulous business audit, ServiceKey targets the specific areas each business needs to address, eliminate, enhance or add in order to reach their business goals and attain what every business owner wants in the end: financial independence. For more information about ServiceKey, visit http://www.secretsofbusinessmastery.com or call Mike Agugliaro at 732-513-8601.