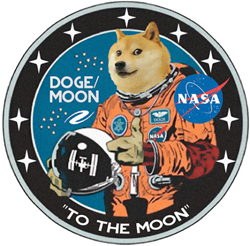 "Crypto trading and pop-culture grew Doge, but it's the ease of Fiat transfer that has solidified this community, and Vault of Satoshi has exercised industry leadership by leading this trend." --Adam Cochran, Business Development Analyst
(PRWEB) January 29, 2014
2013 may have been the year of Bitcoin, but it seems that 2014 has found a new rising star to become the new cryptoking. The popular cryptocurrency "DogeCoin" based on the Shibe Doge Meme has taken the world by storm and quickly become the most traded crypto on the net, rapidly surpassing trade volumes of other coins.
While the coin was at first dismissed by the bulk of the Bitcoin community as a bit of a joke, it really found its footing when the DogeCoin community came together to raise over $30,000 in support of the Jamacian Bobsled team in order to send them to compete in Sochi for the 2014 Winter Olympics.
Today however the DogeCoin landscape once again took a major shift that seems to be, as the Doge community says, putting it "Too the Moon!". The major Canadian currency exchange Vault of Satoshi added support for DogeCoin today admits their major feature update, and was quickly trampled with pawfuls of orders trading DogeCoin at roughly 10x its trade value from yesterday.
Vault of Satoshi has often been associated with its outstanding user support as a leader in Bitcoin trading, but it's on-trend innovations such as supporting DogeCoin, direct cash deposits through their Canadian bank partner BMO, and their low trade fees, seem to suggest that it will soon become a central point for the Doge community as well.
DogeCoin's different economic landscape from Bitcoin, and its rapid user adoption due to meme popularity have certainly made it an interesting player in the game of crypto-economics. Unlike Bitcoin whose value has been hedged as a currency of investment, approaches a hardcap, and involves costly mining rigs; DogeCoin's bountiful and playful nature has drastically altered its growth curve, and drawn in a patriotic following that create market stability and most of all trade. As more major players follow Vault of Satoshi's lead and add support for DogeCoin the demand for this cryptocurrency is sure to rise. So as they say in shibe land! Much Coin! Very Wow! Too the Moon!