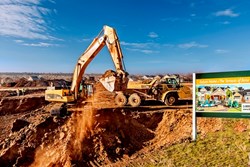 We've found this experience with The Terraces of Boise to be one of the best experiences of our lives.
Boise, ID (PRWEB) January 29, 2014
The Terraces of Boise announced today that they have secured $103.2 million in municipal bonds sales to close financing for the brand-new Life Care community. Construction is currently underway at East Warm Springs Avenue and South Council Spring Road on 12.6 acres within the Harris Ranch area. The senior living community is scheduled to open in late spring 2015 and will bring upscale senior living to Boise.
"We're all very excited about our progress in bringing this new senior lifestyle to Boise," said Paul Fredericks, director of marketing for The Terraces of Boise. "We've reached yet another milestone, and with construction underway and site prep work nearly finished, we're one step closer to being able to serve area seniors in a community they've been highly anticipating. In fact, no one is more excited than the seniors who've already signed on to be the community's first residents."
For the community to secure financing, more than 70 percent of its residences were required to be reserved. Among those who have reserved a future home are Ralph Robinson and his wife, Linda.
"We've found this experience with The Terraces of Boise to be one of the best experiences of our lives," Ralph said. "We're really looking forward to getting to move to the community and get settled in our new home."
The Terraces of Boise has partnered with local Boise general contractor PETRA, AG Architecture and Marlo Interiors for interior design. When construction is complete, approximately 300 area seniors, like the Robinsons, will reside at the not-for-profit community, which will offer 161 residential living apartments as well as a variety of services and amenities, including a fitness center, multiple dining venues and a full activity calendar. As a Life Care community, residents will have guaranteed lifetime access to on-site health care, including 40 assisted living, 48 skilled nursing and 24 memory support suites, if ever needed.
The new development will bring more than 2,000 construction jobs to the area. Once complete, The Terraces of Boise will employ approximately 150 full- and part-time health care, administration, operations and culinary positions.
The Terraces of Boise is taking reservations for remaining apartment homes at the community's Information Center, located at 4940 E. Mill Station Drive, Suite 105. For more information, call 208-336-5550, or visit the community's website at TheTerracesOfBoise.com.
ABOUT THE TERRACES OF BOISE
The Terraces of Boise is a new retirement community coming soon to Boise. As a continuing care retirement community offering Life Care, The Terraces of Boise will offer residents maintenance-free independent living and access to assisted living, memory support and skilled nursing, if ever needed. The community's many amenities will include multiple restaurant-style dining options, underground parking, a fitness center, library and beauty salon.
Through a common parent known as Cornerstone Affiliates, The Terraces of Boise is affiliated with ABHOW, an experienced provider that has been serving seniors since 1949. ABHOW seeks to enhance the well-being and security of seniors through the provision of housing, health care and supportive services, and was a pioneer in the development of CCRCs. For more information about ABHOW, visit ABHOW.com.