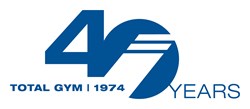 There is a reason why Total Gym has sustained its loyal following… it works. - Chuck Norris
Exton, PA (PRWEB) January 30, 2014
From its grassroots beginning in 1974, Total Gym® has grown to a trusted leader in the health and fitness industry. Today, with over 4 million home gym customers worldwide, plus millions who access Total Gym through physical therapy and the company's GRAVITY® workout program in fitness facilities, Total Gym inspires more than 30 million workouts per year and continues to innovate and motivate users to achieve their fitness goals.
According to long-time user and spokesperson, Chuck Norris, there is a reason why Total Gym has sustained its loyal following… it works.
In 2013, Total Gym launched its latest home exercise machine, the Total Gym FIT. Every detail of the new Total Gym FIT was designed to deliver the most efficient and effective workout. Individuals can get a total body workout in as little as 10 to 20 minutes a day.
Total Gym FIT targets ALL major muscle groups with just ONE workout. With twice the levels of resistance (12 instead of 6), the new FIT provides greater workout control while still providing the same great Total Gym results.
Total Gym FIT comes standard with the best-selling AbCrunch Accessory, plus features an updated 2-Piece Wing Attachment for wider range of motion, an Ergonomic Glide board with Extra Comfort System, new Auto Lock Height Adjustment System for easier transition between exercises, Upgraded Steel Frame, new Custom Fender System to deliver a smoother ride, Reinforced Slide Pivot Assembly for extra strength and durability, a detachable Leg Pulley Bracket and a sleek new look.
To engage their growing community of fitness enthusiasts, Total Gym also recently introduced Total Gym Pulse - the brand's health, fitness & lifestyle blog. Pulse was created as a resource for health & fitness tips, beauty & nutrition advice, healthy recipes and more. The Pulse team of contributors includes MDs, Personal Trainers, Nutritionists, Physical Therapists, Fitness Lifestyle Journalists, a Naturopath and Beauty Experts. New content is posted several times a week. Click here to check out Total Gym Pulse.
Catch the latest buzz about the Total Gym commercial line-up in March at the International Health and Racket Sports Association [IHRSA] show in San Diego, the most important fitness tradeshow in the world. And coming this spring, the studio fitness crowd can expect to engage with a unique workout experience focusing on whole health at GRAVITY® Studio, the newly launched franchise concept by Total Gym.
Total Gym retail & home shopping distribution channels also continue to flourish with best-selling models like Total Gym 1800 Club, Total Gym 1900, Total Gym 1400, Total Gym Platinum Plus and new models planned for 2014 including the Total Gym Premiere.
Celebrating 40 years is just the beginning for Total Gym - inspiring 30 million workouts per year, the brand isn't slowing down.
About Total Gym®
The Total Gym® is the ultimate workout machine utilizing an individual's own bodyweight as resistance to perform more than 80 total-body functional exercises. Total Gym uniquely incorporates the use of multiple muscle groups together in all planes of movement, the most efficient way to exercise and see results. Total Gym, rooted in the physical therapy market since 1986, entered the consumer "home fitness" market in 1996 with the airing of its first television infomercial featuring long-time user Chuck Norris and co-host Christie Brinkley. The Total Gym infomercial is one of the industry's longest-running and most successful; broadcast to 85 countries and credited with sales of over four million units worldwide. For more information, visit http://www.TotalGymDirect.com or call (877) TOTAL - GYM.
###