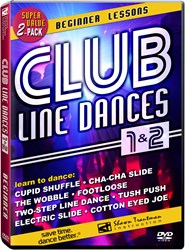 Beginners frequently get lost in group dance lessons and online dance videos regularly frustrate and discourage rather than help
Clearwater, FL (PRWEB) January 31, 2014
With Shawn Trautman's two-DVD release of Club Line Dances 1&2, New Year's resolutions are turning into reality thanks to an innovative teaching curriculum that has students dancing in minutes. Now, thanks to the resurgence of line dancing across multiple music genres in 2014, people of all ages are joining the fun at home by turning up their country hits and blasting the top-40.
"School-aged children and Baby Boomers alike are jumping in on dances like the Cupid Shuffle, Cotton Eyed Joe and the Wobble, so we designed a new way of teaching that works for everyone without them having to leave their house," says instructor Shawn Trautman. "Our focus on multiple learning styles is engaging and gets beginners who've never danced before dancing quickly."
Visual learners internalize the steps by watching two instructors demonstrate varying levels of difficulty with a fun and unique 'what-you-see-is-what-you-dance' method. Systematic directions that address common beginner challenges as well as a number of beginner tips on style, balance and rhythm appeal to the auditory learners. And with plenty of full-song review sections woven into the lessons, the kinesthetic learners commit steps to memory through cued practice.
Multiple camera angles display each step and review segments elevate a dancer's heart rate but are not overly strenuous. The DVD platform features Shawn and Joanna Trautman and focuses on the most popular party dances including The Wobble, Cupid Shuffle, Electric Slide and the Tush Push, just to name a few. Once students have committed the dance steps to memory, finesse and creativity are encouraged.
"Beginners frequently get lost in group dance lessons and online dance videos regularly frustrate and discourage rather than help," Trautman says. "There's no losing anything in translation with these lessons, where everything is broken down and explained for you and you can replay and re-dance segments until you feel comfortable."
The result of the beginner-focused format is that students who have resolutions to learn dances like the Wobble complete the lessons with a whole new outlook on their abilities. For Trautman, whose lifelong goal is to share his love of dance, this is a success indeed.
Shawn Trautman's Dance Collection encompasses the most popular dance styles, including couples dancing and line dancing, with a fun, relaxed and effective method. Trautman combines knowledge in organizational leadership and communication with world-class dance instruction to create his signature dance lessons. To date, his Tampa Bay-based Dance Videos Direct has released more than 75 dance instruction DVDs. For pitch/story ideas, Media Kit, Interviews, Promo DVDs, imagery and more about the Club Line Dances series, call 727-738-1145 or visit http://www.clublinedances.com.