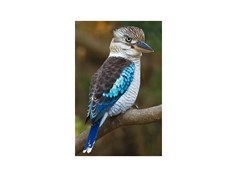 A name that is funny, brings a smile to your face when you say it and most importantly is remembered. What better name for a company whose slogan is... Why be boring?"
Holland, MI (PRWEB) January 30, 2014
kookaburra Office Furniture, a Michigan-based manufacturer of design driven office furniture, announces the introduction of its new kookaburra brand. Matt Glowiak, co-founder and 25-year industry veteran, stated that the "Timing was right for a new manufacturer with innovative ideas to enter the highly competitive industry. Using a strategy of mixed-material construction, imaginative designs and innovative furniture uses, kookaburra is positioning itself to be an alternative to the cookie cutter world of office furniture. We are hoping to bring to the marketplace a realization that consumers do have a choice, and that with kookaburra, custom is the new standard."
When it came to naming the new company, it also appears that "timing was everything." kookaburra's management team knew the biggest challenge would be in indentifying a name that in and of itself would symbolize the company's vision: Strive to be Different!
After weeks of brain storming and hundreds of suggestions, Glowiak came upon kookaburra by a chance viewing of The Ellen DeGeneres TV Show. The highlight of the show was DeGeneres and actress Nicole Kidman attempting to do their best impressions of the raucous call of the Australian kookaburra. The kookaburra is a large bird whose call sounds eerily like a human laughing hysterically. It was this hilarious exchange between the two that provided the inspiration. Stated Glowiak, "These are actual animals with a peculiar name, who set themselves apart from the rest of the bird world with a completely unique and unforgettable call. A name that is funny, brings a smile to your face when you say it and most importantly is remembered. What better name for a company whose slogan is... Why be boring?"
Kookaburra currently offers product in eight different categories: conference tables, hospitality tables, Alfresco furniture, training tables, occasional and accent tables, desks, bookcases and presentation furniture. Manufacturing materials include laminates, veneers, hardwoods, glass, Corian®, wrought iron, cast iron, phenolic core and stainless steel. In addition, kookaburra has one of the most extensive finish and size offerings. kookaburra is currently working with design teams across the US to maintain a fresh look and avoid becoming the next cookie cutter. For more information on kookaburra office furniture go to http://www.kookaburra.us.
"Consumers now have a choice when specifying furniture," said Glowiak. "Our competitive pricing reflects our appreciation and understanding of smart economics. Everyone likes to be empowered until they see the bill; the team at kookaburra makes every effort to eliminate this stressful quandary."
kookaburra also is proud to announce that the following sales organizations will represent kookaburra office furniture: Professional Sales Associates headquartered in Redondo Beach, California will cover CA, OR, WA, HI, AK, CO, UT, ID, MT, NV, AZ, WY and NM; Musgrave and Associates based in Dallas, Texas will represent kookaburra in TX, OK, LA and AR; Kopmeyer and Associates of Olathe, Kansas will cover KS, IA, NE and MO; Bielefeld and Associates out of Youngstown, Ohio will cover OH, PA and WV.
About kookaburra Office Furniture
kookaburra, is the nation's newest office furniture manufacturer providing design driven custom furniture to dealers and the design community.
kookaburra prides itself on offering an extensive variety of products constructed with a large selection of mixed materials, finishes and sizes which makes the expression "custom is standard" come to life.