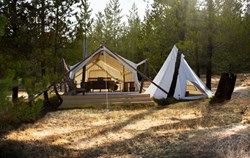 Camping as it should be.
Glacier National Park, Montana (PRWEB) January 31, 2014
Following the overwhelming popularity of Yellowstone Under Canvas, comes additional luxuriously furnished safari tent and tipi accommodation, deluxe suites with king sized beds and roll top baths, and new to the Glacier camp is a Treehouse version of the luxury tent. This all set in the pristine surroundings of Glacier National Park region.
It's not a hotel, although Glacier Under Canvas boasts equivalent amenities, plus a friendly staff to share knowledge and stories around the campfire. It's a luxury camp that practices outdoor ethics and disappears at the end of the travel season, almost completely with little trace left on the landscape.
Situated next to Glacier National Park, guests will be awed by Glacier's beauty and amazing scenery. A variety of relaxation or adrenaline packages can be added to a stay. Glacier Under Canvas offers, active family, helicopter rides, rafting, mountain biking, hiking, and other packages.
An incredible setting for a vacation or wedding. Glacier Under Canvas can now be booked for outdoor weddings using their unique and beautiful tipi marquees. As a brand new product for 2014, the tipi marquees are inspired by the traditional tipi design and are original products in the US. The sides flip up and down to adjust for seasonal weather and allow for up to seven tents to fit together to create artful spaces.
To book a luxury camp destination trip, wedding, party, event or for more information contact Under Canvas at 406-404-1861 or email info(at)glacierundercanvas(dot)com.