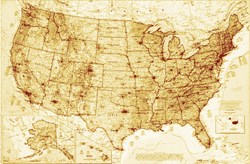 Los Angeles, California (PRWEB) January 30, 2014
24/7 Van Lines, one of the most respected cross state moving companies in the United States, headquartered in Southern California –providing moving services for families and businesses locally, interstate, nationally and internationally – is pleased to announce their forthcoming "Spring is Here" specials. The company plans to strategically roll out these new spring specials in April, approximately one month before the peak season of moving arrives (in June) to better position itself in the national and local markets.
A Moving Authority article that was published, which was intended to act as a consumer report regarding common scams to avoid with long distance moving, advised that the peak time of the moving season commences from May through September each year, when warmer weather makes it easier for movers to pack, haul and deliver items. During this time, the report said, the most prevalent scams are unveiled with movers as they compete aggressively against one another to earn more business. While there are plenty of reputable movers out there, the article advised readers to be particularly attentive and diligent when reviewing estimates and contracts to avoid commonly hidden fees like the added cost for moving items up or down stairs when moving.
"At 24/7 Van Lines, we know that the most popular months to move take place from late April until late September, when businesses and families move the most," said company spokesperson, Mark Tanning. "The goal of our forthcoming 'Spring is Here' specials are to present an unrivaled value to businesses and families seeking to relocate. We take things a step further with our price match guarantee, which assures our customers that if they find a written estimate for a lower price, we will match it or beat it to earn their business. We strongly feel that this is how nationwide moving companies should operate within this competitive industry."
About
24/7 Van Lines is one of the nation's most respected cross state moving companies, offering local, state, national and international moving services for businesses and families. They are gearing up for the forthcoming busy spring season by announcing their "Spring is Here" package of specials that will entitle business owners and families with substantial savings if they take advantage of these deals during the spring.
You can learn more by visiting 24/7 Van Lines online.
Press Contact:
Mark Tanning
24/7 Van Lines
(877) 549-2077