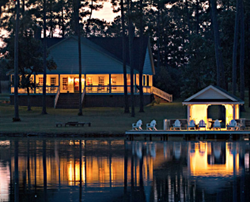 The accommodations at George Hi, the quality of the hunting and shooting grounds as well as their commitment to customer service all epitomize what we look for in an Orvis Endorsed Lodge. - Scott McEnaney, Eastern Director of Orvis Endorsed Operations
Garland, NC (PRWEB) January 30, 2014
The historic George Hi Plantation announced today that outdoor retailer, The Orvis Company has given their internationally-recognized stamp of excellence to the George Hi hunting grounds and lodge in Garland, North Carolina.
For nearly three decades The Orvis Company has been recognizing excellence in sporting experiences through its Endorsed Lodge, Outfitter and Guide program. Each endorsed operation has its own character, but all share the same high standards: great service, great fishing or wingshooting, and an experienced, professional staff. These standards of excellence are continually reviewed by the Orvis staff and evaluated by visiting guests in post-visit critiques sent directly to The Orvis Company. Orvis-Endorsed operations cater to every ability from beginners to experts
"This recognition from Orvis is exciting for us," said Charles DuBose, owner of George Hi Plantation. "Since before the civil war, sportsmen have been hunting quail on these grounds. To be endorsed by a company as respected as Orvis, the authority in the outdoor lifestyle industry, is an important recognition of the quality of the experience people have here and why they keep coming back year after year."
But it is not just the 1000 acres of world-class habitat that earned the Orvis endorsement for George Hi; it's the world-class hospitality and customer service that qualified George Hi for the endorsement.
"The accommodations at George Hi, the quality of the hunting and shooting grounds as well as their commitment to customer service all epitomize what we look for in an Orvis Endorsed Lodge," said Scott McEnaney, Eastern Director of Orvis Endorsed Operations at The Orvis Company. "They are a natural fit for us and we could not be happier to welcome them to the program."
Read more about George Hi Plantation and book your visit at http://www.georgehi.com.
About George Hi Plantation
The hunting operation is supported by almost 1000 acres of mature quail habitat, experienced guides, well-trained hunting dogs, a new 5 stand for shooting clay targets, an 1855 guest house, an eight bedroom Lake Lodge with waterfront gazebo, a private chef, and a dedicated staff. Every year, from October through March, George Hi opens this spectacular property to hunters from across the nation.
Read more at http://www.georgehi.com.