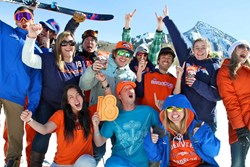 Mt. Crested Butte, CO (PRWEB) January 31, 2014
What better way to celebrate Colorado's own Denver Broncos playing in Super Bowl XLVIII than to head to the Rocky Mountains, ski all weekend and watch the big game? Crested Butte Mountain Resort (CBMR) is selling $48 lift tickets for Saturday, February 1, 2014 to anyone who wears orange on their outside layer, encouraging guests to come to the mountain and be "united in orange" together on the slopes. In addition, there will be a tailgate party, large TV screens to watch the game in a base area bar, a wing eating contest, giveaways and discounted tickets on Monday too, with the price depending on the score of Sunday's game.
The Big Game Weekend begins with $48 lift tickets for everyone wearing orange pants or shirt. Let's hear it for the Broncos! Keep that orange ensemble on because the celebrations begin at 3 p.m. on Saturday, with a Tailgate Party at Butte 66; free beer for everyone in orange until the keg runs out.
The party continues on Sunday. Ski all morning and then join fellow Broncos fans at Butte 66 for the annual Super Bowl Party, with 50 cent wings, barbeque specials, a wing eating contest at halftime and giveaways throughout the game.
For those still in around on Monday, the price of Monday's full day lift ticket will based on the final combined scores of Sunday's game. The price will be determined using the following formula: $1 per point scored. If the final score is Broncos 24 and the Seahawks 21, the price of a lift ticket for Monday, Feb. 3 will be $45. However, there is a cap in the event of a high-scoring game; guests will pay no more than $59 for a full day lift ticket.
The big question arises, how low could it go? If the score at the end of the game is 3 to 0, tickets at CBMR would be $3 next Monday. As a reference in Super Bowl history, the lowest combined scoring game was 21 points in 1973, but CBMR is willing to bet on the odds and regardless give everyone a discounted day of skiing. Go Broncos!
For a full list of discounts and festivities for the Big Game weekend, visit http://www.skicb.com/biggame.