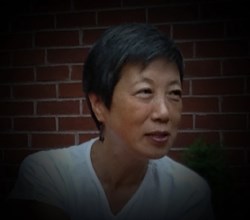 Just keep going until our birthday. Just keep going until June... Just keep going...
Virginia Beach, VA (PRWEB) February 18, 2014
Funeral services for Mariko Sasaki, Co-Founder of Easy English NEWS were held December 13, at Macagna Funeral Home in Cliffside Park, New Jersey. Hundreds of students, friends, and teachers attended the memorial ceremony, with a Buddhist priest officiating. Many of them told stories of the profound ways Mariko Sasaki had affected their lives.
Mariko Sasaki had a dream as a young girl in Japan: she wanted to live in the United States. Finally, at the age of 21, she came to New Jersey to attend Seton Hall University. She became a Japanese bilingual teacher in Fort Lee New Jersey's public schools.
Mariko worked hard at teaching, and her students loved her. After a few years at Fort Lee, she started her own private language school. Her first school was "The Grapevine." Later, she founded JBC Language in Edgewater, NJ.
In 1995, Mariko teamed up with Elizabeth Claire, an ESL teacher she had met in Fort Lee, to work on Claire's idea for a newspaper for immigrants. It would be in simple English and would help newcomers learn about life in the U.S.
Mariko's enthusiasm helped bring the project to life. In February, 1996, Sasaki and Claire published the first issue of Easy English NEWS of Bergen County, NJ. Their vision was to have the newspaper be free, supported by friendly advertisers. They gave their newspaper for immigrants away to schools, libraries, and grocery stores.
However, "We were too shy to ask people to buy ads!" says Claire. "Soon we were broke." After two months, Claire was ready to give up the project.
Mariko had a way of breaking a difficult task into smaller chunks. She said, "No, let's just do three months and see." So they did. But they were still not getting enough ads to pay for the paper. Mariko began paying for the printing and other expenses of the paper from a small inheritance she had from the Robertson Foundation. Claire took on part time tutoring to help pay the other bills.
When Claire again repeated her desire to quit, Mariko was undaunted. She said, "Let's stop looking for ads. Let's sell subscriptions and make Easy English NEWS a national newspaper."
They rented a mailing list and sent free samples to ESL programs around the country. Many schools subscribed. But not enough. The newspaper's expenses went up quickly, but its income did not grow fast.
Mariko was sure that Easy English NEWS would make it some day. She named Claire "Okasan" (the mother of the newspaper). Claire called Mariko "Otosan" (the father).
After printing the October issue, Claire said, "This isn't going to work. Let's quit and give the subscribers back their money."
Mariko had more faith. She said, "No, let's just keep going until December."
Mariko had used up her inheritance, and went back to building her language school. But she said, "Just go till our birthday (February)."
By the February edition, Claire was too tired to go on. Mariko said, "Take a rest, and just go to June."
And so it was: with small steps, Easy English NEWS kept improving, and kept winning more subscribers. It took five years for the fledgeling newspaper for immigrants to start paying its own bills.
"Without Mariko Sasaki," says Claire, "this simple-to-read newspaper for immigrants would never have been started. Her ideas still live on: You can go far if you take one small step, and then take another step. I will always hear her voice in my head saying, Just keep on going." And it has, for eighteen years.
Mariko Sasaki is survived by five sisters in Japan, and several nieces and nephews.
Easy English NEWS is published ten months of the year and is available by subscription. Order forms are available at elizabethclaire.com Free samples are available for the asking. The mailing address is 2100 McComas Way, Suite 607, Virginia Beach, VA 23456. Toll free telephone in the U.S. is 888-296-1090.