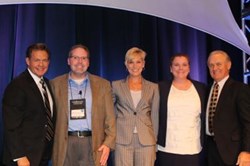 Fort Worth, TX (PRWEB) January 30, 2014
Talent management solutions provider, Profiles International, announced their 2014 Outstanding Client of the Year at their recent World Conference in the Renaissance Worthington Fort Worth Hotel.
The award was presented to Patrick C. Garrett, Vice President of Human Resources and Chief Personnel Officer at The Blood Connection.
"Using Profiles' solutions to focus on 'Job Fit' in both new hire recruiting and on-going staff development, TBC has experienced a 20% reduction in our turnover rate, decreasing from 35% in 2010, to just slightly over 14% at the end of 2013. This change has not only had a positive impact on lowering employee turnover and training expenses, but has also fostered a more stable and engaged workforce," said Mr. Garrett.
The Blood Connection became a Profiles client in April 2011, working with Strategic Account Manager Gina Gonzales. They plan to continue with their Profiles International partnership, integrating many solutions into their strategy and training plans for 2014 and the foreseeable future.
Patrick Garrett addressed over 300 conference attendees, and told the story of the working partnership between The Blood Connection and Profiles International and the successes they have shared. Garrett is responsible for all personnel management processes, including employee relations, payroll and benefits, and strategic planning.
"I am honored to accept this award on behalf of The Blood Connection. Working with Profiles International has been of tremendous value to our business and employees," said Mr. Garrett. "We appreciate Profiles International, their business values, and team members."
ABOUT THE BLOOD CONNECTION
Every two seconds, someone in the United States needs blood. The American Association of Blood Banks (AABB) estimates an average of 23 million units of blood components are transfused into patients annually. The Blood Connection was established in 1964 by a group of forward-thinking healthcare leaders. The company remains focused on its original mission: to ensure that their healthcare partners have an adequate, safe, and cost-effective blood supply.
Learn more by visiting http://www.thebloodconnection.org.
ABOUT PROFILES INTERNATIONAL
Profiles International is the best source for talent management solutions, with over 20 years' experience and more than 40,000 clients in over 120 countries. Profiles knows how people work and what motivates them. Their data-driven talent management solutions--built on complex behavioral science, yet simple to administer and read--help organizations find the right people, shape them into a winning team, and lead them to their full potential.
http://www.profilesinternational.com
###