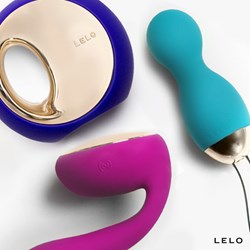 "Sex toys are a great idea for couples; they are not only a fantastic way to spice up your sex life together, but they work. They help women reach the heights of orgasms that are usually difficult for most."
San Jose, CA (PRWEB) January 30, 2014
Swedish intimate lifestyle designers LELO have released the first results of their 2014 Global Sex Survey, revealing that since 2012, more women than ever before have tried kinky sex acts.
However, the survey shows that in the build up to Valentine's 2014, women have emerged from this kinky 'Fifty Shades' phase with more liberated attitudes, finding ways beyond the novelty and kink to enhance intimacy with their partners.
Reader's can view LELO's new infographic at http://www.lelo.com/theblog/kinky-sex-vanilla-sex-infographic/.
In 2014, LELO survey data shows that 1 in 5 women have been involved in a threesome, a figure which is double that of 2012's findings. Similarly more than half of all women in a relationship have made some form of a private sex tape, and over a third have experienced a sexual act in a public place.
LELO Global Survey findings – taken from female respondents and comparing 2012 and 2014 data include:

10% vs. 20% Have had a threesome
28% vs. 52% Have made a private sex tape
36% vs. 43% Have had sex with a stranger
27% vs. 35% Have had sex in public
While such increases reflect the fact that more women have lived out their fantasies over the past 2 years, it turns out kinky does not equate to satisfaction as a whopping 80% of women agreed that their fantasy didn't live up to expectations.
LELO Sales figures also show that kinkier 'novelty-based' liaisons between the sheets reached a plateau this year, strongly suggesting couples realized that going "Grey" just wasn't quite right. Sales of whips and hand cuffs have reached a plateau, while sales of couples' massagers have increased by 82%. Couples massagers are typified by designs that can either be worn during intercourse or are remote-controlled, thereby adding the couples' dynamic to the sensual experience.
Renowned Sexual Educator Devi Ward, commented on the findings of the LELO survey, explaining: "Women must feel relaxed and safe in order to have really great sex and orgasms. Sexual exploration and fantasy can add some fun spice to the bedroom, but at the end of the day, a woman "gets off" best when she feels cherished by her partner, and confident enough to share her most intimate pleasure zones with him (or her)."
LELO explains the reason for this lack of satisfaction is because 78% of women are still unable to reach orgasm without direct clitoral stimulation, something that also explains why couples have overtaken singles as the biggest category of sex toy owners.
Regarding this prevalence of sex toy ownership among committed couples, sex counselor and best-selling author Ian Kerner, PhD says that: "Sex toys are a great idea for couples; they are not only a fantastic way to spice up your sex life together, but they work. They help women reach the heights of orgasms that are usually difficult for most."
In the run-up to Valentine's Day, LELO sales data shows a spike in purchases of couples-centric sex toys like HULA Pleasure Beads™, wearable couples' massager IDA™, and the recently released ORA™, which simulates the pleasure of oral sex for women.
To see the results from more than 12,000 people surveyed from around the world, check out LELO's newest infographic.
The LELO 2014 Global Sex and Relationship survey is the latest in a line of surveys conducted by LELO ranging from as far back as 2009. Data has been collected from almost 50,000 people worldwide and the Swedish company aims to end 2014 with 200,000 respondents within the calendar year.
Notes to Editor:
This data was collected between December 2012 and December 2013 from more than 25,000 survey participants and extracted from early findings of the LELO 2014 Global Sex Survey (Jan 2014).
Please visit the infographic to access an embed code if you would like to share the image on your website.
For more information and press inquires contact: pr(at)lelo(dot)com.