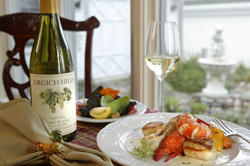 "Valentine's Day is our busiest time of year," says Mark Murrell, owner of GetMaineLobster.com
(PRWEB) January 30, 2014
So often it is the food that sets the tone for a holiday. A barbecue on the Fourth of July or traditional Christmas fare is an anticipated feast that is part of the day, the fun and the memory. Food is a great part of how people connect as family, friends and couples. Valentine's Day is no exception. But this romantic meal begs the annual question: what menu will be both delicious and exciting?
This year, why not create a romantic dinner for two that captures the rugged feel of the salty New England coast and the smooth delicate flavor of an American Classic – the Maine lobster. Whether a pair of hearty live lobsters, or buttery lobster tails, or a lobster fondue for two, lobster is a natural, heart-healthy choice with that exceptional feel that turns any Valentine's Day table into a banquet.
Valentine's Day is a huge day of celebration in the U.S., one often accompanied by grand romantic gestures, even marriage proposals. However, it's still a work day for most people. So there may be only a few hours to carry out our plans. Usually this involves a romantic meal, one intended to knock the ball out of the ballpark.
"Valentine's Day is our busiest time of year," says Mark Murrell, owner of GetMaineLobster.com. "More and more men and women are opting out of busy restaurant dinners, with their long waits and overwhelmed wait staff, to enjoy a slow, romantic dinner at home."
Lobster makes it easy to create that special meal at home, whether the venue is an elegant, white tablecloth dinner or a casual, in-front-of-the-fireplace fondue for two. To get started, here is a simple recipe for Dreamy Lobster Chunk Cheese Fondue that makes 8 servings in only 50 minutes:
Dreamy Lobster Chunk Fondue
Ingredients:
2 cups bite-sized chunks cooked Maine lobster meat
2 cups shredded Swiss cheese
2 cups shredded Gruyere cheese
2 Tbsp. flour or cornstarch
2 cloves garlic, cut in half
1-1/4 cups dry white wine
1 Tbsp. lemon juice
Preparation:
Arrange lobster pieces in serving dish as desired.
Mix cheeses with flour by tossing together in a large bowl with a fork. Crush garlic with a large chef's knife and then rub on all sides and bottom of the fondue dish or saucepan. Pour wine into fondue dish and "turn up the heat" until its bubbles rise to the surface. Stir in lemon juice and continue to heat.
Ever so gradually add cheese, 1/2 cup at a time, stirring constantly over low heat, until melted. Check to make sure it is the consistency you like. If not, add more cheese or wine until it reaches desired consistency. If using a saucepan to heat ingredients, pour the hot fondue mixture into a heated fondue dish and serve immediately. Serve with lobster chunks, and enjoy!
About GetMaineLobster.com:
GetMaineLobster.com, a division of Black Point Seafood and Black Point Gourmet, hand-selects the finest Maine lobster, seafood and beef products for convenient distribution throughout the United States. Their passion is to make fresh, quality seafood readily available to customers across the country, which is why they buy from only the most trusted, well-established suppliers to ensure that they receive the finest products available.
GetMaineLobster.com was selected out of the more than four million small American businesses served by Chase bank to represent its new Platinum Business Checking product for its 2013 national advertising campaign.