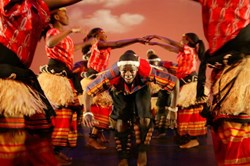 Santa Fe, NM (PRWEB) January 29, 2014
The international dance troupe Spirit of Uganda, produced by the nonprofit organization Empower African Children, will perform Saturday, Feb. 15, at 7 p.m. in the Greer Garson Theatre on the campus of Santa Fe University of Art and Design (SFUAD). Spirit of Uganda's artistic director Peter Kasule ('07) and its audio supervisor and assistant production manager Peter Mugga ('13) are both university alumni.
The internationally traveling show is produced by Dallas-based Empower African Children, which mentors young Ugandans with the goal of creating and developing opportunities for them to realize their full potential. The troupe's 21 performers, ranging in age from 12 to 20, will perform a colorful two-hour performance of more than a dozen folkloric and new songs and dances representing the main ethnic groups of Uganda and neighboring countries. All the performers are either orphans or at-risk youths.
"I am living a dream come true with Spirit of Uganda, and I am delighted to return to the Land of the Enchantment," said Kasule. "I have always wanted to leave a mark in every community, and this is a great opportunity for me to be back in Santa Fe. Long live the arts and bravo to those that have made the arts thrive. Because of the education I received in Santa Fe I am able to preserve and share my culture through the arts."
Kasule, a Ugandan orphan whose parents died of AIDS, started performing as a youth and attended an arts high school in Dallas prior to attending College of Santa Fe (now SFUAD) and earning a degree in music technology in 2007. Mugga, an accomplished composer, multi-instrumentalist, sound engineer and educator, is an original member of Spirit of Uganda and an SFUAD graduate under Empower African Children's scholarship program. Mugga co-produced and engineered Spirit of Uganda's 2012 and 2014 tour CDs. Today, Mugga's onstage and engineering work continues to add to his experience and further his goals of sharing, preserving and strengthening his culture through music performance, education and technology.
"Performing in Santa Fe and SFUAD is the highlight of the entire tour for me," said Mugga. "This is something I only dreamed of—for Spirit of Uganda to share our rich African culture with the Santa Fe community. I am very excited and cannot wait for the community to see Uganda and Africa at large represented on the Greer Garson stage. As a graduate from SFUAD, I feel very privileged to have received an education on a full scholarship. It means a lot to me to be able to give back to the community."
The New York Times has written that the Spirit of Uganda "invigorate[s] the stage with that elusive thing called joy." The Village Voice describes the performers as "young, proud, and marvelously spirited musicians and dancers. Whatever these performers do, in whatever different bright attire, they do with discipline, fervor, and joy . . . . The pounding feet and agile bodies, the drums and vibrant human voices all send a message—one of courage and hope."
"The last time Spirit of Uganda appeared in Santa Fe, at The Lensic, I left that concert thinking it was one of the most exciting musical experiences I'd ever had," said Steve Paxton, chair of the Contemporary Music Program at SFUAD. "What an honor to have this internationally recognized ensemble back in Santa Fe. I'm so proud that two of our alumni are part of the company."
Tickets for the Feb. 15 performance, which starts at 7 p.m., are available through The Lensic at http://www.ticketssantafe.org or by calling 1-505-988-1234. Tickets are $25 and $10 for SFUAD students. All proceeds benefit Empower African Children.
About Empower African Children
Empower African Children, a 501(c)3 nonprofit organization, was launched in 2006 by Alexis Hefley and Donna Malouf, following Hefley's 15 years of work with Ugandan children. Empower strives to provide a fresh approach that unlocks the potential of a new generation of leaders through experiential learning. The organization's holistic approach provides tools for success in life, thus inspiring confident, skillful and visionary leaders. See more at http://www.empowerafricanchildren.org/what-we-do/spirit-of-uganda/.
About Santa Fe University of Art and Design
Santa Fe University of Art and Design is an accredited institution located in Santa Fe, New Mexico, one of the world's leading centers for art and design. The university offers degrees in arts management, contemporary music, creative writing, digital arts, graphic design, film, performing arts, photography and studio art. Faculty members are practicing artists who teach students in small groups, following a unique interdisciplinary curriculum that combines hands-on experience with core theory and prepares graduates to become well-rounded, creative, problem-solving professionals. As a Laureate International Universities Center of Excellence in Art, Architecture and Design, the university boasts an international student body and opportunities to study abroad, encouraging students to develop a global perspective on the arts. Santa Fe University of Art and Design is accredited by The Higher Learning Commission and a member of the North Central Association, http://www.ncahlc.org.
# # #