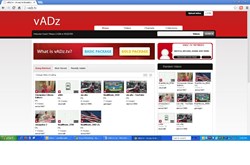 Cincinnati, Ohio (PRWEB) January 30, 2014
Cincinnati-based vADz, Inc., owner of the popular video ad creation website, http://www.vADz.com has launched a companion video hosting site, http://www.vADz.tv.
vADz.tv is tailored for the small and medium-sized business owner who has a collection of business videos but doesn't have a way to host, monitor and display those videos.
"vADz.tv serves as a very cost-effective home for those business videos. Business's can direct their customers to the vADz.tv page to view their video playlist in a business-centered environment without distracting ads," said Chris Burnett's vADz, Inc's Vice President of Marketing.
vADz.tv allows its clients to create a customized playlist, then with a simple link or embed code put that playlist on the client's own website or other websites. vADz.tv also supplies its customers with statistics on how often their videos are viewed and allows for easy download of a particular video.
"vADz.tv is a natural expansion of our video ad creation business, said Carol Meinhardt, vADz, Inc. COO. A one-click link to vADz.com will allow the vADz.tv customer to bring any video to vADz.com, edit and update that video and then save it to their playlist on vADz.tv."
vADz,Inc. operates premier video ad creation and video hosting websites tailored for small and medium-sized businesses. A vADz video allows its creator to attach files, coupons, maps, etc. directly to their video and to easily edit that video and its attachments.