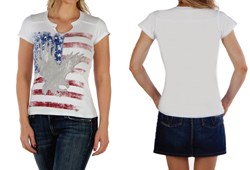 Helping America one top at a time.
Springboro, Ohio (PRWEB) January 30, 2014
American Made apparel company, Liberty Wear, announces their new restructuring of price points for 2014. Due to overseas prices and manufacturing, Liberty Wear constantly battles being an American Based and American Made company. To combat the rapidly growing decline in American production and employment, Liberty Wear will introduce new price points and exceptionally low sale prices.
"We are in no way cheapening ourselves or our products, but making a strong building block towards the rapid decline our economy has endured," states, Matteson Kelly, Marketing Director.
Liberty Wear has announced that their main objective is to ensure that America still has American Manufacturers and that every type of business can afford to buy American.
"America has always been a country of entrepreneurs, builders, and creators. As we work to restore our economy, it is important to stand behind the American companies that make good products, maximize U.S. employment, and earn the loyalty of their workers and the communities of which they're a part...." -Former President Bill Clinton.
Liberty Wear has slashed prices more than 20% off American Made Apparel sale items as well as new inventory to not only help combat overseas manufacturing, but to help the Mom and Pop Businesses who are at the center of this Country and make up 65% of the net new jobs.