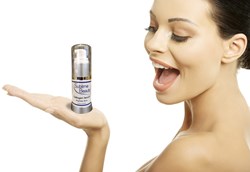 The key ingredient in the Sublime Beauty® Collagen Peptide Serum is Matrixyl, with the ability to double collagen production.
St. Petersburg, FL (PRWEB) January 30, 2014
Most women, and some men, would like to know how to diminish the wrinkles that appear on their face.
The new Sublime Beauty® free report explains more behind the situation and how to improve skin. The report is available here.
The Collagen Peptide serum, one of the most popular serums at Sublime Beauty®, includes the key ingredient Matrixyl that has the ability to double collagen production.
"This serum is light and airy, but powerful," says Kathy Heshelow, founder of Sublime Beauty®. "It blends easily with the day or night cream, and is pleasant to use."
Sublime Beauty® products are available on Amazon, with fast shipping and secure checkout. A list of all products can be found here.
The company sends secret discounts and deals to those who sign up for alerts on the website, and oftens send "Loyalty Discount" cards to those who purchase products.