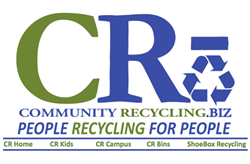 This is just the tip of the iceberg in terms of the positive effect on people around the world that ShoeBox Recycling is generating. It's stunning to see how the choices we all make have the power to greatly benefit the lives of those around us.
Fairless Hills, PA (PRWEB) February 06, 2014
Community Recycling announces an early milestone for its ShoeBox Recycling program by recycling one million pounds of shoes for reuse. Within less than two years since implementing the ShoeBox Recycling program, Community Recycling is proud of the achievement and is excited with the promise of what is yet to come.
"With our ShoeBox Recycling program, we invite everyone to think about recycling in a very different way, with reuse as the central feature that connects people all over the world," said Ira Baseman, president of Community Recycling, continuing, "This first million pounds is just one early, yet significant milestone on our journey."
ShoeBox Recycling acquires recycled shoes through paid-collection partnerships with non-profits, schools, municipalities, retailers, and thousands of other organizations across the United States. The recycling partner that brought ShoeBox Recycling to the1,000,000-pound mark was Girl Scout Troop 15345 from St. Paul, Minnesota.
"We recently started our collection with ShoeBox Recycling after learning how Girl Scouts everywhere are participating," said Sarah McCarney, Girl Scout Troop Leader for Troop 15345. "It's a terrific way to keep shoes out of landfills and onto the feet of people who need them."
Aside from the core mission of diverting usable shoes from landfills and finding them a second life, ShoeBox Recycling strives to connect its over 2,200 participating organizations like Troop 15345 with the individuals on the receiving end by creating SoleMate Notes. A SoleMate Note is a personal note written by the recycler that opens the door to dialogue between them and the new owner of their shoes—their SoleMate.
Baseman explains, "We have created SoleMates and have thousands more waiting to happen. It's stunning to see how the choices we all make have the power to greatly benefit the lives of those around us."
ShoeBox Recycling by the Numbers
•One million pounds of shoes equals approximately 500,000 pairs of shoes
•There have been 2,200 ShoeBox Recycling partners across the United States
•Shipments from all 48 contiguous states have been received via shipping and logistics partner, FedEx Ground
•35% of recycled shoes stay domestically for reuse and 65% find second homes in 22 countries around the world
•$500,000 has been paid out to ShoeBox Recycling partners' fundraising initiatives
The environmental effect of diverting one million pounds of shoes from landfills has the following global impact:
•Preserves 5,714 cubic yards of landfill space, or the approximate equivalent of filling an entire profession football field with shoes
•Conserves 4.4 million pounds of carbon emissions, or the equivalent of removing 916,667 automobiles from the road
•Conserves the carbon sequestration equivalency of 3,606,559 acres of US forests in one year or about 5,000 trees for a lifetime
How to sign-up for ShoeBox Recycling
Call 1-800-336-0141, send an email to info(at)communityrecycling(dot)biz or sign up on our website. Recycling shoes for reuse is the easiest green thing everyone can do to save our resources, create jobs and fuel local economies.
# # #
Community Recycling is a for-profit clothing recycler with a focus on reuse. Community Recycling diverts millions of pounds of clothing from landfills annually, generating new revenue streams for municipalities, schools, non-profits, thrifts and other US businesses. Committed to the mission of People Recycling for People, Community Recycling helps fuel economies through job creation domestically and internationally. Community Recycling, founded in 2001 and headquartered in Fairless Hills, PA, offers a portfolio of innovative recycling programs including CR Home, CR Kids, CR Campus, CR Bins and ShoeBox Recycling. Visit http://www.communityrecycling.biz for more information.