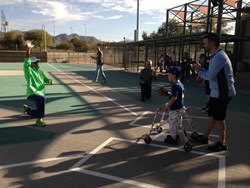 What a privilege. How can you not love a good ball game with kids that bring a smile to your face & a tear of happiness down your cheek. - Steve Neff
Scottsdale, AZ (PRWEB) February 03, 2014
The Miracle League of Arizona,a non-profit organization dedicated to enhancing the lives of individuals with disabilities, have been inviting celebrity sports figures, and community business leader to experience baseball at the Miracle League of Arizona. Each guest is invited to throw the first pitch during one of the two inning games followed by singing, "Take Me Out to the Ball Game" with the players and fans.
"In baseball, it's an honor to throw out the first pitch to the start of a big game," said Dan Haren Sr., executive director, MLAZ. "We invite the community to come on out and have some fun with us and support our mission of providing the baseball experience to kids and adults with disabilities. We see miracles happen at every game, now the community can be a part of it."
Games are held every Saturday from 10:00 to 3:30 p.m., at Dan Haren Jr. Field, 11130 East Cholla Street, Scottsdale. Special celebrity guests, including Baxter from the Diamondbacks, Steve Neff, VP of sports for the Waste Management and Tom Altieri from the Thunderbirds, all have participated in throwing the first pitch in support of the Miracle League.
Special guests scheduled to appear are; AZ Republic sports columnist and radio host Dan Bickley, Derrick Hall, president of the Diamondbacks, Bryan Sperber, president of Phoenix International Raceway and Sean Malone, CEO of the Frank Lloyd Wright Foundation.
About The Miracle League:
The Miracle League of Arizona is a non-profit organization based in Scottsdale, dedicated to providing a safe and enjoyable baseball experience for children, teens and adults with disabilities or special health care needs. They offer adaptive baseball, at an accessible stadium, removing the barriers that would normally keep individuals off the baseball field. Follow us on Twitter or follow us on Facebook.
For more information, contact Casie Switalski, MLAZ director of operations, at 480-686-8137 or visit http://www.mlaz.org.
If you would like to donate to the Miracle League please, contact Casie Switalski, MLAZ director of operations, at 480-686-8137. All proceeds go directly to help sustain The Miracle League of Arizona (MLAZ)--truly a miracle foundation.