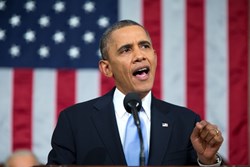 "Recent numbers foretell a decline headed toward extinction for organized labor," said ANHS President and CEO William R. Adams, Ph.D.
Chicago, IL (PRWEB) January 30, 2014
According to Adams, much has been written and predicted in the last few weeks about the imposition of new or reinvigorated federal intervention into the world of union organizing.
Some of the agenda items include: 
"While the Obama administration chose not to appeal their "loser" poster requirement", said Adams, "they haven't abandoned the quickie election."
The Board's rescission of its appeal of the DC Circuit's decision invalidating their change in representation case rules only clears the deck for the new NLRB majority to revisit the changes in the exact same manner. The only issue before the court was whether or not the Board had a quorum at the time they changed the rules.
Adams states that changes to the Landrum Griffin reporting requirements, if implemented, would serve as a deterrent for importers to find competent legal representation. The changes would collide with the attorney-client privilege. Broader application of the Specialty Healthcare decision, which allows unions to carve out and file representation petitions in small previously inappropriate units. This makes it easy for them to organize, according to Adams.
The perennial challenge to the definition of a supervisor is alive and well. The Board wants to raise the bar, which would make it more difficult for employers to claim, for example, that lead people and charge nurses are supervisors under Section 2(11) of the National Labor Relations Act, which can be read here: http://www.nlrb.gov/resources/national-labor-relations-act.
 
All of these changes are designed to improve a union's chances of gaining new members. "Given the defiant tone of the President's speech, it is easy to imagine him giving early and strong marching orders to the one government agency whose mission is to assist his biggest constituent…organized labor," said Adams.
About ANHS
When employees begin to organize, it strikes fear into the heart of any organization. The good news is that a powerful team of union avoidance consultants can help organizations affected by strikes. For nearly 30 years, Adams Nash Haskell & Sheridan has provided winning services, campaigns, and insights for clients across the country. Organizational leaders should not wait to take back the control that has been worked hard to gain. Adams Nash Haskell & Sheridan provides "expertise you simply can't live without." Contact the experienced advisors at Adams Nash Haskell & Sheridan today at 800-237-3942 or visit http://www.anh.com.