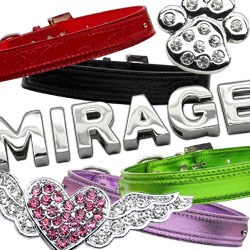 Free Bling is Back at www.doggyinwonderland.com!
(PRWEB) January 30, 2014
Doggy In Wonderland and has announced a special promotion offer just in time for Valentine's Day. Now their customers may have their dog's name on their collars. In order to claim the offer, the customers simply have to purchase a charm collar for their pup and receive up to 6 slider charm letters at no cost to spell out their dog's name. Doggy In Wonderland offers several different charm collars including the Metallic Two Tier Dog Collar and the Faux Crocodile Dog Collar. Both come in a variety of colors and sizes to choose from. Customers will also have the choice between chrome and bling slider letters to spell their dog's name. If customers want a little something extra to dress up the collar, Doggy In Wonderland also offers additional slider charms including: paw charms, heart charms, star charms, bone charms, puffy heart charms, flying heart charms, the American flag charm and an assortment of holiday charms to help them dress up their pup.
To browse the selection and claim the six slider letters for dogs at no cost, one simply has to go to Doggy In Wonderland's 'Dog Collars with Charms' Category. After that, the steps are easy:
1.Select the preferred collar and add it to the cart.
2.Choose either CHROME or BLING letters to spell pup's name.
3.Enter CHROME or BLING in the Customer Message box upon checkout along with the 6 letters that are to be included at no cost.
4.Add any additional charms or letters wanted to the cart before checking out.
5.And, don't forget, everyone does receive 6 letters at no cost with each charm collar purchased.
6.Good through February 2014.
One of the managing partners stated, "We are excited to announce that FREE BLING IS BACK! What a fun way to accessorize your sweet furbaby. You can choose a stylish yet practical collar for your dog, add their name in either the chrome or the bling slider letters and now through February 2014, up to 6 letters are absolutely FREE! And don't forget, you receive the free letters with each charm collar purchased."
About Doggy In Wonderland:
DoggyinWonderland.com is a BBB accredited online pet boutique offering a wide selection of pet accessories and other products for dogs and cats. This includes a full line-up of chic dog products such as stylish dog clothing, collars and leashes, pet furniture and dog beds, eco-friendly pet gear, healthy dog treats, dog toys, pet carriers, and a growing collection of cat products as well. Their goal is not only happy and healthy pets, but also 100% customer satisfaction. Call 866.280.1818 for more information, and see the full product range at DoggyinWonderland.com.