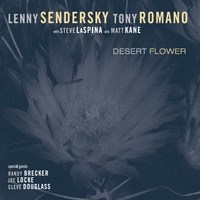 New York, NY (PRWEB) January 30, 2014
Moscow 57 announced today that Tony Romano, who regularly performs at the company's M57 Pop Up Urban Salons, is set to release his newest album, Desert Flower, co-produced with Russian alto saxophonist Lenny Sendersky on February 4th, in advance of their upcoming tour of Russia beginning February 12th. Sendersky has also performed at an M57 Urban Salon with Romano the last time he visited New York. To celebrate this occasion, Moscow 57, a new restaurant with live music at 168-1/2 Delancey Street on New York's Lower East Side, will host a performance by Romano and special guest Cleve Douglass on February 5th, the restaurant's opening night. Moscow 57 has also created a "Desert Flower" cocktail, which will be on the restaurant's opening menu.
Romano and Sendersky are joined on Desert Flower by some of the finest jazz musicians in the world, including trumpeter Randy Brecker, vibraphonist Joe Locke, bassist Steve LeSpina, drummer Matt Kane and vocal improvisationalist (and Moscow 57 regular) Cleve Douglass.
Desert Flower is a culmination of the sound that Lenny and Tony have been working on over the last few years. After meeting and playing together at a jam session at the Christiania Jazz Club in Copenhagen, Denmark in June of 2010, they partnered up and began touring together in Russia. This recording documents some of the original music they have played in the last two years, as well as some new music written specifically for this recording.
Moscow 57 is a Russian and Central Asian restaurant from a New Yorker's perspective with live music, featuring a mix of live blues, folk, world music and jazz nightly. On Sundays, it will stream a weekly live M57 podcast. Moscow 57 was started several years ago by Ellen Kaye and her partner, Seth Goldman, as a hospitality and catering company. Ellen has a long history in the restaurant business: Ellen's parents, Faith Stewart-Gordon and Sidney Kaye, owned the Russian Tea Room from 1947 to 1996. Now, M57 has found itself a home on Delancey Street in New York City.
Moscow 57 Entertaining, the sister company to Moscow 57, created with partner Ethan Fein, is developing projects for film, television and theater. Its music company produces podcasts, live performances, recordings and videos. Moscow 57's first CD releases have already garnered national radio airplay. The videos can be seen on the Moscow57Entertaining Youtube channel.
For the past two years, Moscow 57 has been creating M57 Urban Salons, evenings of music, food and digital visual art displays, in locations in Harlem, Chelsea, the Upper East Side, Governors Island, Bridgehampton, Connecticut and is making New Orleans a home away from home.
Guitarist Tony Romano has been a vital part of the New York City music scene for over twenty years, and has had the privilege of touring, performing and recording with the world's finest musicians. Tony is an adjunct faculty member at Five Towns College, and a Teaching Artist for the Kupferberg Center at Queens College. He has an MA in Jazz Performance from the Aaron Copland School of Music at Queens College, CUNY.
Lenny Sendersky is from St. Petersburg, Russia. There he completed his formal musical training, college education and gained his experience as a visionary, performer and producer. In order to launch his international career, Lenny chose to invest a couple years into living, working and developing his craft in Denmark. In 2011, Sendersky immigrated to Israel, gradually and confidently established himself in the jazz scene of his new home by performing and successfully producing projects featuring Israeli, American and European jazz artists.
Desert Flower Info:
Street Date: 2/4/2014
Artist: Lenny Sendersky and Tony Romano
Title: Desert Flower
Label Name: LeTo Records
Catalog Number:
UPC Code: 8 84501 98376 1
Website:
http://www.tonyromanomusic.com
http://www.lennysendersky.com
https://www.facebook.com/LeToRecords