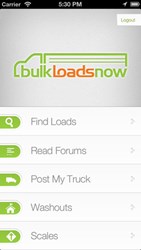 Mobile app usage continues to be a large growth segment for BulkLoadsNow members
Nixa, MO (PRWEB) January 31, 2014
BulkLoadsNow.com, a fast-growing bulk truck freight matching site, reached over 29,000 load postings this past week. Its freight matching site or "http://www.bulkloadsNow.com" connects shippers in the grain, feed, fertilizer, food and manufacturing industry with carriers that pull hopper bottom, end dump, walking floor, end dump, pneumatic and liquid tanker trailers.
"This January has been a little different versus a year ago", said Jared Flinn, Operating Partner and BulkLoadsNow.com. "We noticed a higher volume of loads available and less carriers searching. Last fall's record grain harvest has helped continue to keep grain moving in the market, keeping carriers busy moving locally."
Mobile app usage continues to be a large growth segment for BulkLoadsNow members. "We have 4-5 new downloads daily, with more than half of our carrier members logging in through our app." Said Matt Fredin, Chief Information Officer at BulkLoadsNow.com.
BulkLoadsNow recently launched an online dispatch/load tracking system, http://www.loadorganizer.com earlier this year, which allows shippers and brokers to effectively manage loads and post/remove them to BulkLoadsNow.com.
About BulkLoadsNow.com
BulkLoadsNow.com is an online community of professionals in North American's bulk freight industry. Our shipper members are transportation logistics managers of grain, fertilizer, aggregates, feed ingredients and all agriculture commodities. Our carrier members pull hopper bottoms, walking floors, end dumps, belts, live floors, pneumatics and liquid tanker trailers. We provide to our members the industry's most innovative bulk freight solutions including an enhanced load board, database of all carriers in North America, instant communication tools, industry forums and news updates, and much more.
Jared Flinn
Operating Partner
BulkLoadsNow.com
p. 800-518-9240 Ext. 2
http://www.linkedin.com/in/jaredrflinn