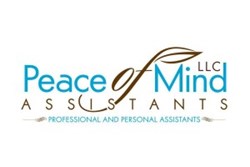 Those who think of strategy as only marketing make a sometimes fatal error.
Newburgh, NY (PRWEB) January 30, 2014
Susan Shier & Holly Condina started Peace of Mind Assistants to enable professionals to spend more time on revenue generating activities and less time on the administrative aspects of their business.
This is no cookie cutter internet service with dozens of part timers being assigned your important tasks. Peace of Mind starts with a thorough intake to align expectations and to ensure they know exactly how you like things done. Then you can unload various tasks to them like calendar, file, and contact management; data entry; customer care and follow up; social media support; and general administrative assistance.
Because the key to their success is never dropping a ball and doing things right the first time, they engaged their award winning Hudson Valley, New York neighbor Capacity Business Consulting to formulate a 360 degree Growth Strategy.
"Those who think of strategy as only marketing make a sometimes fatal error," says Eric Egeland, President of Capacity. "Good strategy entails Marketing and Operations. We first have to examine the operation AND target market to come up with a truly differentiated value proposition they can promote. With that we can develop a Marketing Strategy that blows them up overnight, but if they don't have a sound Operational Strategy to deliver the value that's promised, the marketing plan can just make them fail faster."
Susan Shier of Peace of Mind Assistants had this to say, "Building a strong foundation on which to market and grow the business is a critical component of our success. To know what we will need to do, when we need to do it, and how to do it will be a huge advantage to us. It also provides us with peace of mind in knowing that we have a plan to get from A to Z in as straight (and painless) path as possible."
About Peace of Mind Assistants
Peace of Mind Assistants enables professionals to spend more time on revenue generating activities and less time on the administrative aspects of the business. We save entrepreneurs and small businesses thousands of dollars each year. Our personal assistants work from their own offices; they use their own equipment and provide services to small businesses, entrepreneurs, executives, and busy individuals who need assistance with the daily operation of their businesses. For more information, visit http://www.peaceofmindassistants.com.
(845) 240-4899
peaceofmindassistants(at)gmail(dot)com
About Capacity Business Consulting
Capacity Business Consulting provides a broad array of services that help our clients start, grow, fix, fund, or sell their businesses. Engagements include feasibility studies, funding preparation, operational strategy, growth strategy, fiscal/economic impact, turn-arounds, etc. For more information, visit http://www.capacitybusinessconsulting.com/services/problem-solvingimprovement/marketing-strategy/#.UrxR57Qwn3A.
845.764-9484
info(at)CapacityConsultingInc(dot)com