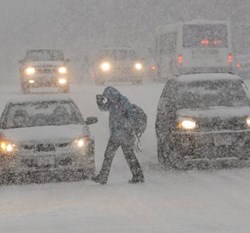 Have an emergency survival kit for your car as well as for your home.
Neptune, NJ (PRWEB) January 30, 2014
With the 2013 / 2014 winter season being the coldest in recent history for many areas as well as the fact that there have been a number of city power companies struggling with power outages that have taken days to get power back online, All Hands Fire Equipment, leading NJ fire safety equipment company, shares some tips for emergency preparedness during cold winter months.
President and founder Donald Colarusso has vast experience with cold weather emergencies due to his more than 26 years as a firefighter and NJ Firefighter safety trainer. His company provides fire safety equipment as well as a variety of emergency preparedness and survival supplies that could make the difference in cold weather emergencies.
Being Prepared for the Worst in the Winter
"A good rule of thumb is to always be prepared for the worst," says Mr. Colarusso. "Have an emergency survival kit for your car as well as for your home. Companies should also be equipped for weather emergencies at the office. Many strive to plan for 2-3 days of being snowed in at home but it's also vitally important to prepare for power outages that could last more than 24 hours."
If the household doesn't have a safe and working fireplace or wood stove, purchasing a generator should be considered. Those who have a heat source may also want a generator for basics, like keeping a cell phone charged or refrigerator on.
Keeping in touch with family is important for peace of mind but it's also important to keep up to date on what's happening in an emergency situation. There are many affordable solar and crank radios and solar flashlights now on the market.
Smart Survival Gear Helps
Other survival gear is important. Keeping several days of food and water on hand in the winter is wise and survival kits are quickly growing in popularity. It's also wise during winter to ensure that lifesaving medication doesn't run low, in case it becomes difficult to leave home for several days.
Remembering Carbon Monoxide Dangers and Fire Safety During Power Outages
Mr. Colarusso also stresses the importance of attention to carbon monoxide poisoning and fire risk during emergencies, "People will go to great lengths to stay warm during power outages in extreme weather and this could be detrimental, depending on the heat source they use. Backup batteries in carbon monoxide detectors and smoke detectors are critically important. And always use common sense and caution." He says that people should strongly consider survival training as well as an emergency plan that they discuss with their family in case of power outage, fire, or medical emergency.
All Hands Fire Equipment offers a wide variety of fire safety equipment as well as emergency preparedness and survival gear at http://www.allhandsfire.com/emergency-preparedness-equipment-supplies.
About All Hands Fire Equipment
All Hands Fire Equipment, based in NJ, has been a family-owned company serving NY and NJ with fire safety equipment since 2001.
Contact information:
All Hands Fire Equipment
506 Atkins Avenue
Neptune NJ 07753
Email: sales(at)allhandsfire(dot)com
Follow All Hands Fire Equipment on Facebook at http://www.facebook.com/AllHandsFire and on Twitter: at http://twitter.com/allhandsfire.