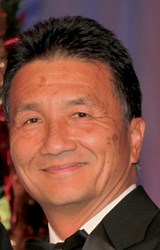 San Antonio, TX (PRWEB) February 11, 2014
Grand Hyatt San Antonio is proud to welcome Paul Tang as its new General Manager and Area Vice President of Hyatt Hotels in Texas. Tang, the 1992 recipient of the Hyatt Donald Pritzker General Manager Award, attended the University of Hawaii where he obtained a BA in Travel Industry Management and later received an MBA from Michigan State University. In his 41-year Hyatt career, Tang held the position of General Manager in Seattle, Columbus, Chicago-O'Hare, Waikiki and most recently, Hyatt Regency Grand Cypress in Orlando where he also served as Area Vice President of Florida Hyatt Hotels.
During his time in Florida, Tang was a frequent guest speaker at the Rosen School of Hospitality at University of Central Florida and the Hotel School at Florida State University. Under Tang's leadership as Past-Chairman of Visit Orlando, the city was on track to host 56 million visitors this year, due to his success in shifting major convention business to Orlando, sustaining the second largest convention center in the United States. Tang served as Past-Chair of the Central Florida Hotel and Lodging Association (CFHLA), the largest Hotel Association in the United States, and also chaired the CFHLA foundation, which provides student scholarships and grants to local colleges in addition to a philanthropic endowment community. In 2012, he was recognized as CFHLA Lodging Member of the Year and was named Most Influential Businessman of the Year in addition to Business Executive of the Year by Orlando Business Journal.
Paul Tang and his wife Patti, have three grown children, son, Christopher and daughters, Alex and Samantha. Both he and his wife enjoy spending time with their children and King Charles Spaniel as well as golfing and participating in fitness programs.
About Grand Hyatt San Antonio
Grand Hyatt San Antonio is a premier destination in the heart of downtown. The 1,003-room, 37-story luxury hotel, with 115,000 square feet of indoor/outdoor meeting space, is adjacent to the Henry B. Gonzalez Convention Center and famed San Antonio Riverwalk. The hotel features a fully equipped 24-hour StayFit@Hyatt gym with heated outdoor lap pool, Bar Rojo, a casual-yet-upscale lounge experience, Ruth's Chris Steakhouse, as well as Perks Coffee and Travel Traders. At the Grand Hyatt San Antonio guests will find a unique blend of location, amenities and services to make their stay unforgettable. For more information on Grand Hyatt San Antonio or Bar Rojo please call (210) 224-1234 or visit http://grandsanantonio.hyatt.com or http://www.barrojosa.com
About Grand Hyatt
Grand Hyatt features large-scale, distinctive hotels in major gateway cities and resort destinations. With presence around the world and critical mass in Asia, Grand Hyatt hotels provide sophisticated global business and leisure travelers with upscale accommodations, extraordinary restaurants, bars, spas and fitness centers, as well as comprehensive business and meeting facilities. Signature elements of Grand Hyatt include dramatic architecture, state of the art technology, and facilities for an array of business or social gatherings of all sizes.
# # #