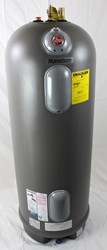 Marathon water heaters are durable and energy efficient electric water heaters.
Fairview, Oregon (PRWEB) January 31, 2014
GP Conservation, the leading online retailer for energy efficiency solutions, recommends upgrading of existing electric water heaters to a Rheem Marathon water heater model. Electric Rheem Marathon water heaters are expected to last 2-3 times longer, are built with more durable and tough materials, are better insulated to save energy, and come with a limited lifetime tank warranty against leaks. More than 8 million water heaters need to be replaced annually in the United States of America. Rheem Marathon water heaters are built to last and may indeed last a lifetime.
GP Conservation offers the top 10 reasons for home owners to consider upgrading to a Rheem Marathon water heater:
1. Available in just about any size. Marathon water heaters are available as 15-, 20-, 30-, 40-, 50-, 75-, 85-, and 105-gallon electric water heater. There is a Marathon water heater replacement option for almost any existing electric water heater.
2. Durable water heater tank. Marathon water heaters are not made of steel. Marathon water heaters' exteriors are made of polyethylene and the interiors of polybutene. Neither material can rust or corrode. The material is considered to be ten times stronger than steel. Instead of buying a new water heater every 10 years Marathons are expected to last 2-3 times longer.
3. Made in USA. All Rheem Marathon water heater tanks are made and assembled in Montgomery, Alabama. Some parts that cannot be sourced in the USA are made in North America.
4. Rheem Limited Lifetime warranty. Each Marathon water heater comes with a Rheem factory direct limited lifetime warranty against a leaking water heater.
5. Light weight. Most Marathon water heaters weigh less than one hundred pounds due to the use of light weight high tech materials. Marathons can easily be transported by the home owner or contractor to installation site.
6. High energy factor. Marathon water heaters are built with a thick layer of insulation that keeps the water warm. Home owners experiencing a power outage may see a drop in water temperature of less than 5% per 24 hours without power.
7. Oversized electric water heater elements. Marathon water heaters use oversized electric elements to heat the water. The larger size and material used to build Marathon electric elements provides low watt-density. The transfer of heat from the element to the water is spread over more material reducing the long term stress on the electric water heater elements.
8. Titanium plated electric water heater elements. Most new Marathon water heaters only use titanium plated electric elements compared to conventional steel or copper elements. Titanium is significantly less prone towards reacting with minerals in the water supply. The elements stay cleaner over long periods of time thereby increasing longevity and reducing stress on these wear and tear parts.
9. Brass parts. All Marathon water heaters feature durable brass unions, a brass temperature pressure and relief valve, a brass vacuum relief valve, and a recessed brass drain valve. Brass parts offer a much longer life span than steel or plastic components found on inexpensive electric heaters.
10. Bowl shaped bottom. All Marathon water heaters have a bowl shaped bottom of the tank instead of a conventional flat bottom. The bowl shaped bottom reduces the build-up of sediment at the bottom of the tank. It also allows for a more complete draining of the water heater. This is important for home owners that have a lot of sediment in their water supply.
GP Conservation offers the full line-up of Rheem Marathon water heaters available for purchase to consumers and contractors. The most popular model include the 50-gallon sized MR50245 Marathon water heater, the 80-gallon sized MR85245 Marathon water heater, and the 105-gallon sized MR105245 Marathon water heater.
About GP Conservation
GP Conservation is an e-commerce retailer for consumers and contractors in the area of energy and water conservation products. GP Conservation has been operating as online retailer since 2002. GP Conservation sources a wide selection of specialty products from manufacturers that are committed to quality conservation products.