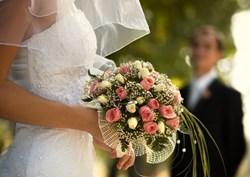 The Cottage Yarrow's flowers are amazing! I love the unique style of their bridal bouquet's and centerpieces. -Bride
Draper, Utah (PRWEB) January 30, 2014
The Cottage Yarrow in Draper, Utah has been given a 5 star rating from Salt Lake Wedding Reviews. They have also been rated the top wedding florist in Draper for having the highest average rating.
The Cottage Yarrow is located in Draper, Utah. They specialize in wedding flowers and serve brides across the entire Salt Lake valley. The Cottage Yarrow is famous for bridal bouquets and floral arrangements that act as centerpieces for wedding events.
The Cottage Yarrow does custom flower arrangements to meet the style and needs of each individual bride. With years of floral expertise, brides have continually been satisfied with this amazing Utah wedding florist.
"We have named The Cottage Yarrow the number one wedding florist in Draper, Utah. Our brides have rated dozens of florists and The Cottage Yarrow has been given the highest ratings. We have enjoyed meeting their staff and are pleased with their impressive portfolio of wedding flowers. Congratulations to this year's top wedding florist in Draper."
Salt Lake Wedding Reviews gives 5 star awards according to reviews that have been left by real wedding brides. The Cottage Yarrow has a 5 star average rating for their service as a wedding florist.
Mark Abbott is The Cottage Yarrow's expert floral designer. He has over 20 years of experience and isn't afraid to create new styles. Mark has made a name for himself in the flower world. Brides are continually talking about his unique style.
Mindy Doyle, owner of The Cottage Yarrow spent the beginning of her career as an accountant. She decided to leave the accounting world and attend The Utah School of Floral Design. She has recently graduated and paired up with Mark to help Utah brides create unforgettable weddings.
Aside from wedding flowers, The Cottage Yarrow is a home decor boutique and gift shop. Mindy is striving to create a boutique where customers can find everything they need to beautify their home. Mindy and Mark are interior design experts and are willing to help customers transform their homes.
To learn more about The Cottage Yarrow, use the contact information provided in the contact box.