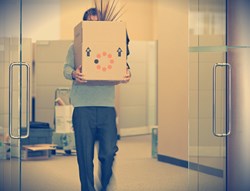 Los Angeles, California (PRWEB) January 30, 2014
Innumerable office relocation companies employ services that cut corners and rely on outdated business processes in order to make an extra buck. The Commercial Movers are different, and are reaffirming their dedication to complete customer satisfaction by maintaining updated services and procedures throughout the year. They do this by constantly monitoring the competition, and outperforming everyone else.
The Commercial Movers have planned to make their office moving company more versatile than ever before with a fleet of contemporary trailers that are at least 50 feet in length. These durable trucks are capable of hauling even the largest, most challenging offices wherever they need to go, and are outfitted using the most environmentally friendly technologies on the market. Larger trucks mean fewer trucks are needed, and having fewer trucks helps save businesses money. In order to further curb waste, new GPS tracking systems have been installed. These systems ensure that there are fewer delays in relocating, and allow The Commercial Movers to offer the lowest prices possible.
The safety of moving crews and all materials being transported is of the utmost importance. Many business moving services will attempt to cut costs by using the cheapest materials available, but the Commercial Movers keep the newest industrial strength packing materials on hand all year long. Their teams know what to wrap and how to do it, using the appropriate boxes, protective blankets, and bubble wrap whenever necessary.
Training has been improved by ensuring that all movers are prepared for a variety of situations. This allows them to swiftly and accurately move large stores of materials from warehouses, offices, retail establishments, and medical facilities.
The Commercial Movers also offer exclusive services to clients, including free quotes and on-site estimates, not to mention important checklists and prerequisite requirements or suggestions for the moving process. Storage is offered when needed, and is guarded with 24 hour surveillance. Some items need to be disassembled before a move, and then reassembled later. The Commercial Movers are happy to do it all, and constantly challenge themselves to offer more than top competitors.
About The Commercial Movers
Commercial, business, and office moving is a pain-staking process. The Commercial Movers are trained to critically think under strict time constraints in order to overcome the many challenges posed. This is made easier because they are provided with the best tools and training available, and the employee turnover rate remains low enough that staff are happy and dedicated, resulting in one of the fastest growing moving companies in the nation. Questions and comments can be referred to The Commercial Movers website.