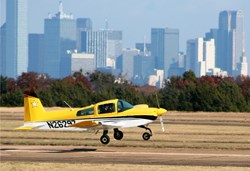 Dallas, Texas (PRWEB) January 31, 2014
Slipstream Aviation has been recognized for its high standard of accomplishment in flight training by The Aircraft Owners and Pilots Association (AOPA). The flight school has been awarded a spot on the Flight Training Excellence Awards Honor Roll, a title given to high scoring flight schools from AOPA's flight training poll.
The Flight Training Excellence awards were created to highlight the best the flight training industry has to offer. "We feel it's important to recognize flight training providers, like Slipstream Aviation, who create a quality customer experience that supports student pilots and their entry into all aspects of the aviation community," said Shannon Yeager, vice president of AOPA's Center to Advance the Pilot Community.
Slipstream Aviation flight school was founded in 2006 by Mischa Porter, a former airline pilot with 22 years of aviation experience. The school's mission is to provide an unparalleled flight training experience for the next generation of pilots. Porter remains engaged in the daily running of the flight school, ensuring that all customers receive an exceptional level of customer service and one-on-one attention which helps burgeoning pilots become the safest, most proficient pilots they can be.
To select the award winners, AOPA invited those who have taken flight training within the last 24 months to complete the Flight Training Excellence Poll. Each individual could nominate up to one flight school and one flight instructor. The online poll was conducted from April 10 to August 9, 2013, using a process that contains several safeguards designed to ensure fair competition. AOPA's poll had 3,375 respondents.
Information about flight training at Slipstream Aviation is available at http://www.flyslipstream.com or by calling 817-658-5988.