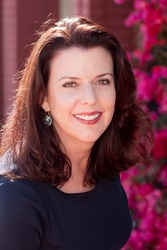 San Francisco, CA (PRWEB) January 30, 2014
Beyond Pix Studios today announced the appointment of Karen Sutton, an enthusiastic leader with a depth of knowledge in production and production management, as General Manager. Ms. Sutton will join Beyond Pix Studios effective February 10, 2014.
Ms. Sutton assumes leadership of Beyond Pix Studios following an exceptional 17-year career as head of Stanford Video, a division of University Communications at Stanford University, where she served as Executive Producer.
"Karen is one of the most talented executives in the Bay Area's motion arts industry and we're looking forward to her vaulted leadership in keeping Beyond Pix at the forefront," said Ray Santiago, Beyond Pix Studios Founder. "Karen is a rock star in my book."
She is an Emmy-nominated Executive Producer who was responsible for producing and directing a variety of programs including documentaries, PBS television series, live interactive webcasts, keynote speaker engagements and live events for high-level state, national, and international visitors. She was also responsible for relocating and redeploying Stanford University's multi-camera production studio and editing facilities. She supervised all visual, technical and integration aspects to design a hybrid facility accommodating analog and digital capabilities.
Ms. Sutton said, "I am looking forward to the opportunity to work with the team at Beyond Pix to nurture and expand existing partnerships and grow new opportunities. Beyond Pix has provided professional, dedicated support to me as a vendor while I was at Stanford and I am delighted to be joining a team of professionals I highly respect."
Before Stanford, Ms. Sutton managed production facilities in Silicon Valley and spent the last 18 years in the video industry – from traditional broadcast production to software based new media systems. She holds a BA in Broadcast Communications from State University College in Buffalo, NY.
About Beyond Pix Studios:
Beyond Pix Studios is the largest full-service production company in the San Francisco Bay Area, providing corporate and broadcast clients with video production, creative services, post, stages and events services, digital and interactive media, and live multi-cam production. The company has three locations in San Francisco, including the area's largest sound stage, Beyond Pix @Bayshore.
For more information, contact Kim McCready at 415-434-1027 / kim(at)beyondpix(dot)com.