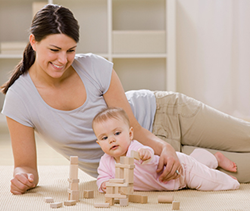 Each day, nearly 7 children are treated in hospital emergency rooms for electrical shock or burn injuries caused by tampering with a wall outlet.
Colorado Springs, CO (PRWEB) February 24, 2014
Shock Blocker, a new outlet cover designed for home childproofing and electrical shock prevention, aims to be the market leader by offering the first truly foolproof design. While other designs claim to offer shock protection through simply covering exposed sockets, the Shock Blocker completely replaces the standard outlet cover altogether. By using Shock Blocker's most innovative design feature, the locking, closed-off shutters, which will only open when something (i.e., the prongs of a power plug) are inserted into them at the same time. This ensures that infants and toddlers can't accidentally electrocute themselves through inserting objects into the socket.
Every single day, an average of seven children are sent to the emergency room for electrical shock injuries caused by tampering with an electrical outlet. That adds up to over 2,500 children every year, many of whom are in the infant and toddler age ranges. While home safety products like your average outlet protection cover can protect against shocks, none of these are truly tamper-proof. Shock Blocker is. Its patent-pending tamper-resistant shutter technology distinguishes Shock Blocker as the only complete and permanent solution to home safety.
Made in the U.S.A., Shock Blocker is the premier product for American Innovative Inventions and the first of many planned. Distributors may apply to carry Shock Blocker at https://www.buyshockblocker.com/distributors/ while customers can purchase them online here https://www.buyshockblocker.com/product/shock-blocker/ or at participating retailers.
About American Innovative Inventions, LLC : Founded with the sole purpose of providing inventors with the support they need to produce and market their products, American Innovative Inventions, LLC looks to be the next big thing in the innovation industry. With 14 new products slated for production, Shock Blocker is just the tip of the iceberg. Their website, aii-na.com provides an online platform for startup inventors to pitch their products and reach out to the public, in hopes of gaining support, gathering feedback, and showcasing their inventions.