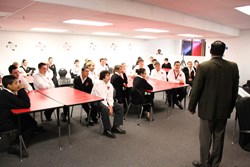 The GREAT Academy is very excited to announce its partnership with techJoYnT.
Oklahoma City, Oklahoma (PRWEB) January 30, 2014
The GREAT Academy is a public charter high school, located in Albuquerque, New Mexico serving students in grades 9-12 whose mission is to ensure that its students Gain Real-world Experience through Active Transition. This school embraces a unique, one-of-a-kind business-school model. The school has a business and college-prep focus. Its unique hybrid curricular model includes four hi-tech career exploration labs covering the areas of: Audio/Video Production, Science & Engineering, Marketing & Entrepreneurship and Health & Education. The GREAT Academy promises to make sure that its graduates are prepared for the demands of post-secondary education and/or the career world, and in turn, improve the community by improving its residents. The GREAT Academy is committed to providing students with an education that is relevant and meaningful to their journey of achieving success. The Academy received a school letter grade of a 'B' for the 2012 school year.
The GREAT Academy has reached out to techJOYnT for consultation on equipping their STEM Education lab. techJOYnT has been working with several companies, including Aldebaran Robotics (NAO), National Instruments (myDAQ), and RobotsLAB(BOX) to create a well rounded STEM lab to be used in education. As part of the GREAT Academy's new STEM lab, they will be getting three RobotsLAB BOXes, several myDAQ kits and a Aldebaran NAO robot.
The STEM lab is built around techJoYnT's GEAR program (Game Design, Electronics, App Development, and Robotics). From February 19th - 21st, Twenty-nine students, teachers, faculty and staff (including the Executive Director and Director of Academic Affairs) from the GREAT Academy will be traveling to Oklahoma to visit techJOYnT and to receive training on using their new equipment.
"We are very excited to have The Great Academy visit and to help spread STEM education to New Mexico! They will enjoy a full day of hands-on seminars and, of course, an OKC Thunder game in the evening," says techJOYnT CEO, Ray Shaik.
"The GREAT Academy is very excited to announce its partnership with techJoynT. The school will be adopting techJoynT's GEAR program (Game design, Electronics, App development & Robotics) for the 2014-2015 school year. This unique curriculum will allow the GREAT Academy to live up to its mission of providing a high quality, high-tech, hands-on, innovative approach to delivering our STEM program."
About techJoYnT Academy
techJoYnT delivers curriculum to reinforce traditional science, technology, engineering, and mathematics education. The organization offers families, students, and mentors the opportunity to learn engineering and entrepreneurship concepts through hands-on robotics and game design projects. Programs are offered at local libraries, community centers, public and private schools and at techJoYnT Academy's location.