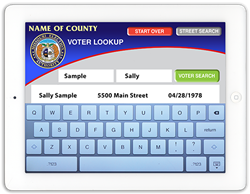 "We are bringing leading-edge technology to polling places across the country." - Scott Leiendecker, Founder of KNOWiNK
St. Louis, MO (PRWEB) January 30, 2014
The President's State of the Union address last night praised the work of his bipartisan Presidential Commission on Election Administration, emphasizing that it "has offered reforms so that no one has to wait more than a half hour to vote." He also committed to making 2014 a year for progress and reform. The report from the Commission included recommendations for "state of the art techniques to assure efficient management of polling places."
This new report on the American Voting Experience is being lauded for its embrace of new technology in the polling place, including iPads.
The report caught the attention of one of the nation's fastest growing election technology companies, KNOWiNK, which hopes the report will raise awareness among policymakers, Secretaries of State, and election authorities about how products like their Poll Pad can improve the election experience for voters everywhere.
"Like the President's commission, we are focused on improving the voter experience," said Scott Leiendecker, founder of KNOWiNK. "We are bringing leading-edge technology to polling places across the country, which is helping election authorities improve customer service for voters and making the election process more efficient and organized."
The Commission notes that it no longer makes sense for cash-strapped jurisdictions that want to keep pace with evolving technology to purchase expensive specialized pieces of hardware that were mandated five years before the first generation iPad. The report notes that iPads "can be integrated into the check-in, voting, and verification processes in the polling place."
KNOWiNK's Poll Pad is an all-in-one solution contained within a single piece of hardware; the easy-to-use Apple iPad. The device eliminates cords and external devices, creating a one-touch system designed specifically to help voters check in at a lightning pace, keeping polling place lines moving quickly and updating voter records faster than ever before.
KNOWiNK was founded by election officials who personally understand the needs of voters and election authorities. In 2013, KNOWiNK was a winner of the Arch Grants Global Business Plan Competition.
For more information on the Poll Pad, go to KNOWiNK.com. You can also find them on Facebook at Facebook.com/KNOWiNK and on Twitter, @PollPad.