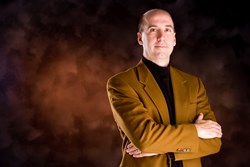 In order to truly embrace the future trends that will affect educators and their students, the educators themselves must first unlearn a lot of what they currently know.
Boston, MA (PRWEB) February 06, 2014
From Thursday, February 6, to Sunday, February 9, the Association for the Advancement of International Education will be holding its 48th Annual Conference at the Westin Copley Place in Boston, MA. The keynote address will be given on February 7th by noted futurist and author, Jack Uldrich.
This year's AAIE conference theme of "Eyes on the Future: Future Trends and Foresight Education" will be addressed by Uldrich as he shares insights from his latest book, "Foresight 20/20: A Futurist Explores the Trends Transforming Tomorrow," and highlights from "Higher Unlearning: 39 Post-Requisite Lessons for Achieving a Successful Future."
During his presentation, Uldrich will focus on the practice of unlearning as a key concept, (a video of his TED Talk on unlearning can be viewed here: http://www.youtube.com/watch?v=AR9fdhJGxtI.)
Uldrich will also provide an overview of how technological change and enhanced mobility is rapidly shifting the expectations and behavior of students, teachers, parents and administration, thereby upending long-standing educational models. Throughout the presentation, Uldrich will use vivid analogies and memorable stories, and videos and games drawn from a wide spectrum of industries, to ensure his message of change is both inspirational and applicable.
A sample of some his ideas on the future of education can be found in this chapter, The Future of Higher Education: A Cloudy Forecast from his latest book "Foresight 2020: A Futurist Explores the Trends Transforming Tomorrow."
In the past year, Uldrich has addressed dozens of educational groups and associations, including customized keynote presentations for Indiana University, The Council of Great Lakes Schools, The University of Minnesota's Carlson School of Business, Educational Services of America, Belmont University, The Chief Learning Officers Summit, The Minneapolis Public School System, The Teaching and Technology Conference, The League of Innovation, The California League of Middle Schools, The American Technical Education Association and the 2013 European Association for International Education's annual conference, in Istanbul. Uldrich has also addressed a number of major, non education-related corporations and institutions on the topics of future trends, change management and unlearning, including Cisco, IBM, PepsiCo, United Healthcare, Case IH, Guardian Life Insurance, WiPro, and General Electric.
Parties interested in learning more about Jack Uldrich, his books, his daily blog or his speaking availability are encouraged to visit his website at: http://www.jumpthecurve.net. Media wishing to know more about the event or interviewing Jack can contact Catherine Glynn.
Jack Uldrich is a renowned global futurist, technology forecaster, best-selling author, editor of the monthly newsletter, The Exponential Executive, and host of the award-winning website, http://www.jumpthecurve.net.