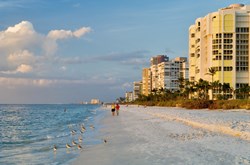 2014 Bliss Award Winner - Best Beach Community of the Year
Naples, Florida (PRWEB) January 30, 2014
With two and half miles of private beach, property owners at Pelican Bay have the luxury of spending their days barefoot in white sugar sand or swimming in the warm aqua waters of the Gulf of Mexico. It's hard to adequately describe how living by the sea adds to the quality of life and longevity. Sunsets at Pelican Bay are divine. Skies filled with hot pink and burnt orange reflecting on the sea. It's not uncommon to hear the blowing of a conch shell during sunset celebrations as the sun disappears into the ocean. Naples Beach has been named Best Beach in America by the Travel Channel.
Beach access is private and is fun to get to by boarding the community's tram which passes over a 530 acre protected nature preserve and private lagoons. Sandpiper Beach Cafe and Sunset Cafe offer beachfront dining. Beach attendants keep the beaches well-maintained and gladly set up lounge chairs, cabanas, and umbrellas from 9am to Sunset. Pelican Bay offers water sports on the beach such as sailboats and sea kayaks. Access is through club membership and fees are low. Like most Florida residents, Pelican Bay residents can be seen spending their time outdoors whether on the beach, playing golf, fishing, or bicycling.
Developed by WCI Communities in the late 80's, Pelican Bay has excellent curb appeal and all types of home styles are available in this ginormous oceanfront neighborhood. There are 6,700 Pelican Bay homes in all. From high-rise condos touching the clouds to maintenance free villas along the golf course or single family homes in a gated neighborhood. Additional amenities include a tennis center with 18 tennis courts, three fitness centers, a 27 hole championship golf course and golf clubhouse with dining.
Pelican Bay is within walking distance of the famous Philharmonic Center of the Arts and brand name shopping. Naples real estate prices have been trending skyward for the past two years and are leading the market in Florida. Fortunately, condos can still be found in the $300k's and single family homes in the high $600k's at Pelican Bay, one of the finest Florida beachfront master-planned communities.
ABOUT REAL ESTATE SCORECARD BLISS AWARDS™:
After visiting 241 master-planned communities in the Southeast, only 140 or 58% have made 'the cut' as of 2014 and are worthy of being included on Real Estate Scorecard's 'best list.'
Bliss Awards are presented annually to the best master-planned communities we find in Florida, Georgia, The Carolina's and Tennessee. All 140 communities were given an equal opportunity to participate in the Happiest Community of the Year™ voting process. Through the Bliss Awards, readers learn about the friendliest neighborhoods, most relaxing places to live, communities with superior amenities and attributes that make them special.
Over 2,400 verified property owner reviews on Real Estate Scorecard's website have been temporarily 'unlocked' - reviews they considered before determining their winners. The fourteen Bliss Awards™ are selected by category:
Happiest Community of the Year™
By State - in Florida, Georgia, North Carolina, South Carolina and Tennessee
By Lifestyle - Beach, Boating, Golf, Mountain, Lake, Tennis, and Equestrian
Best Community Spirit
This year, Real Estate Scorecard added a new category for Best Community Spirit after a newcomer made the competition tougher.
To see all fourteen 2014 Bliss Awards winners, visit: http://realestatescorecard.com/news/real-estate-news/national/best-community-year-2014-bliss-awards.