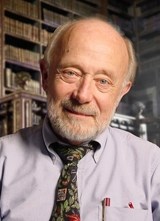 'Dr. Borg's always-relevant message and thought provoking conversations are bound to bring new insight and clarity to all those that attend.' - Rev. Mary Louise McCullough, Senior Pastor, Second Presbyterian Church
Nashville, Tennessee (PRWEB) January 30, 2014
Second Presbyterian Church is pleased to announce that on the weekend of March 7-9, 2014, Second Presbyterian Church will host the renowned theologian, Dr. Marcus Borg, for three lectures, conversations, a Sunday morning class and worship.
The title of the event is "Seeing Moses, Jesus, and Paul Again." Borg's groundbreaking book, Meeting Jesus Again for the First Time, has provided a fresh and deeply meaningful way to encounter Jesus and the gospels for thousands of readers for more than two decades. This weekend series will include Borg's insights into the figures of Moses, Jesus and Paul, and what they have meant to the Christian faith.
Dr. Borg has been a major voice in the effort to bring Biblical literacy into the 21st century church. His work continues to provide Christians a broader understanding of the historical, social and political contexts in which our sacred texts were generated. In recent years he has also widened our conversations about spirituality and religion by speaking and writing about the heart of the Christian faith, and its relevance to those seeking deeper understanding in anxious times.
In order to ensure that this event reaches into the spiritual community of Nashville, several local churches have agreed to co-host this event alongside Second Presbyterian Church. These co-host churches are:
◦ First Unitarian Universalist Church of Nashville
◦ Glendale Baptist Church
◦ New Covenant Christian Church
◦ Otter Creek Church
◦ St. Augustine's Chapel
◦ West Nashville United Methodist Church
◦ Woodmont Christian Church
"We are so excited to work with our co-host churches to bring Dr. Marcus Borg to Nashville," says Rev. Mary Louise McCullough, Senior Pastor of Second Presbyterian Church. "Dr. Borg's always-relevant message and thought provoking conversations are bound to bring new insight and clarity to all those that attend."
The event will begin on Friday evening with a lecture (Moses) followed by time for an audience conversation with Dr. Borg. On Saturday, there will be a morning lecture (Jesus) and conversation, lunch, and an afternoon lecture (Paul) and conversation. Tickets will be sold for all Friday and Saturday events ($50), or the Friday lecture only ($10). On Sunday, Dr. Borg will teach a morning class at 9:30 am and preach at the 11:00 am service.
Tickets are now available to the public.
For more information and to purchase tickets please visit: http://www.weekendwithmarcusborg.eventbrite.com
About Dr. Marcus Borg:
Marcus J. Borg is Canon Theologian at Trinity Episcopal Cathedral in Portland, Oregon. Internationally known in both academic and church circles as a biblical and Jesus scholar, he was Hundere Chair of Religion and Culture in the Philosophy Department at Oregon State University until his retirement in 2007.
Dr. Borg has authored twenty books, including best-sellers Meeting Jesus Again for the First Time (1994), Reading the Bible Again for the First Time (2001) and The Heart of Christianity (2003); as well as The God We Never Knew (1997) and The Meaning of Jesus: Two Visions (1999, with N.T. Wright). Dr. Borg has lectured widely overseas (England, Scotland, Austria, Germany, Belgium, Hungary, Sweden, Israel and South Africa) and throughout North America, including the Chautauqua and Smithsonian Institutions.
About Second Presbyterian Church:
Second Presbyterian Church, located at 3511 Belmont Boulevard, is a progressive Christian family who loves one another and seeks to love the world in Christ's name. For more information, please visit http://www.secondpresbyterian.org.