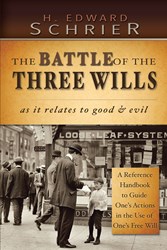 Most choices fall on the side of good or evil.
Brownsburg, IN (PRWEB) January 30, 2014
In the words of Ronald Reagan, "If we forget that we are one nation under God, then we will be a nation gone under."
In his new book "The Battle of the Three Wills," author H. Edward Schrier provides readers with a Christian-based reference handbook to guide the decision-making process.
"Each one of us is faced with a choice each time we are confronted with a decision," Schrier said. "Most choices fall on the side of good or evil."
Using biblical scripture as a foundation, Schrier urges both politicians and civilians to seek the will of God when making a choice.
The author draws from his experience as both a former political official and church leader to provide well-researched insight into topics such as Congress, the media, the Bible, the Quran and several other modern-day issues.
Schrier's desire is to bring readers to the kingdom of God by sharing God's plan of salvation and the ongoing battle between God's will, Satan's will and man's will.
"The Battle of the Three Wills: As it Relates to Good and Evil"
By H. Edward Schrier
ISBN: 978-1-4817-5877-2
Softcover retail price: $23.95
Hardcover retail price: $31.99
E-book retail price: $3.99
Available online at Amazon and Barnes & Noble
About the Author
H. Edward Schrier, a recipient of the Distinguished Hoosier Award, has worked as a Realtor for more than 50 years. In addition to holding public office and teaching Bible studies, he has also served as a lobbyist for the Indiana Association of Realtors and Hendricks County Commissioners. He currently resides in Brownsburg, Ind. with his wife, Shirley.