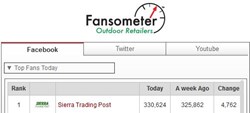 We leverage social to connect with our customer audience. Juliette Rule, Sierra Trading Post
Cheyenne, Wyoming (PRWEB) January 31, 2014
Sierra Trading Post was recognized last week for its social media presence at the Outdoor Retailer winter show.
The recognition came from Outdoor USA Magazine and acknowledged outdoor retailers that have successfully gained fans and reach across the major social channels: Facebook, Twitter and YouTube.
"It's really exciting to be acknowledged in this way," explains Juliette Rule, Sierra Trading Post's manager of social media. "Everyone on my team appreciates the support and applause we get from the Outdoor Retailer community. Many there commented on our rank as published by Outdoor USA Magazine."
Sierra Trading Post ranked first in Top Facebook Fans, Fastest Growing Facebook Fans, Most Twitter Followers, Most Tweets, Top Listed on Twitter, Top Viewed Channel Past Week, Top Viewed Channel All Time and Most Channel Subscribers.
"We saw the potential for social media as a marketing tool very early," explains Rule. "Way back in 2009, we knew it had to be about more than driving a fan count or directly selling to people. We leverage social to connect with our customer audience."
Realizing the value of fans and content, Sierra Trading Post began developing its Voice of Sierra Team in 2010, a group focused on content and reach with an eye on revenue. The Voice of Sierra Team includes five members: a manager, videographer, blogger, Facebook and Twitter channel specialists.
Sierra Trading Post serves content to more than 380,000 fans, followers and subscribers plus hundreds of Sierra Social Hub readers every day.