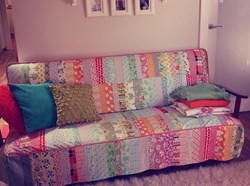 San Jose, CA (PRWEB) January 30, 2014
England Van Lines, is pleased to announce that a cross country relocation moving calculator will be added to their website in July to further help their customers estimate the cost of a move. The calculator will offer helpful features that allow customers to plug in square footage, weight of items, and types of furniture and heavier items to provide a better idea of the associated cost. The calculator will be for all visitors to use, and they will be able to use the results to request a quote based upon them.
A common error made by movers who are seeking to relocate over long distances is forgetting to "price out the move," according to a related article that was published by Moving Authority. Failure to do so in advance can often lend to shell shock when the final assessed cost of moving is factored in, when customers receive their final bill and their eyes go wide. The article advised that to avoid this dilemma and calamity that movers instead fully price out their move in advance. With England Van Lines' forthcoming moving calculator customers can get a better idea of the big picture and cost instantly merely by visiting the website of England Van Lines.
"Long distance moving is already enough of a trying and arduous task," said company spokesperson, William Alexander. "That's why most movers contact us to help them out. Now we are trying to make it easier for them to understand what associated moving costs they will have to encumber by providing a forthcoming and mover's calculator on our website that will be feature-rich, and that will allow movers to generate a free estimate after the fact. We think this will help our customers better understand what costs they face when choosing to relocate."
About
England Van Lines provides local, state, national and international residential and commercial moving services. In the near future, they will be adding a very handy mover's calculator to their website that will enable movers to better assess the cost of the move. The calculator will be feature-rich and include things like square footage of home, bedrooms, furniture size and more to help aid in cost estimation for the move
You can learn more about their services by visiting England Van Lines online.
Press Contact:
William Alexander
England Van Lines
(408) 514-5998