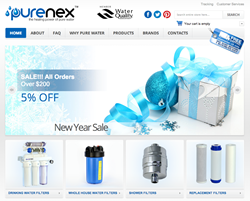 Filtering drinking and bathing water is an essential part of a healthy life.
Brooklyn, NY (PRWEB) January 30, 2014
The water filtration company, Purenex is thrilled to introduce a unique water-filter product line, including the highest quality products in the water filtration industry.
The Purenex water filtration line of drinking water filters, whole house water filters, shower filters, and replacement filters are covered by a 30 day, unconditional full money back guarantee. To stand by the integrity of the products, Purenex offers exceptional customer service!
Health Benefits of Clean Water
The importance of water to our health cannot be underestimated. Everyone must drink at least eight glasses of water a day to maintain a healthy, hydrated body. The Center for Disease Control and Prevention advise that in order to be healthy, people must drink water to keep a normal body temperature, lubricate joints, protect delicate tissue, and get rid of waste. In order to detoxify, people need to take in an abundance of water—and the quality of the water is really important.
Why Filtered Water?
The water needs to be filtered to be safe and healthy. The US Environmental Protection Agency (EPA) strongly advises people to learn about the potential threats their tap water poses. Much of our tap water is contaminated with a host of pollutants. Arsenic, chemicals from cleaning solutions, prescription and over-the-counter drugs, chlorine, and excessive fluoride are all in our water at potentially dangerous levels. Filtering drinking and bathing water is an essential part of a healthy life.
State-of-the-Art, Purenex Product Line
Purenex endeavors to provide the highest quality of water filtration products in the industry. Today Purenex announces a new line of affordable products to choose from. The products calibrate the water filtration system to customer's individual needs. As the Water Quality Association suggests, the water meets the criteria of safe-drinking water when it leaves the treatment plant, but what happens to it by the time it reaches the tap is another matter. Purenex's products are available to protect our families.
Based in Brooklyn, New York, Purenex Inc. is a proud member of the Water Quality Association and a company with an exemplary reputation in the water filtration industry. Our systems are assembled in the USA, and our customer service standards are top-notch. We will always fulfill our commitment to our customers for all their future water filtration requirements; because for your family's health, that's what water filtration is—a requirement.
Media Contact
Telephone: 1-718-265-6699
Fax: 1-718-891-0012
Email: info(at)purenex(dot)com