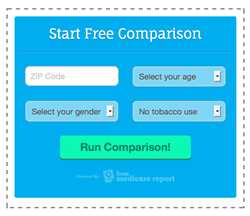 Makes it easier for agents to help Medicare recipients save money on insurance.
Omaha, NE (PRWEB) January 31, 2014
FreeMedicareReport.com, a leader in analyzing Medicare supplement options, has launched a new service to help Medicare agents compare Medicare supplement (or Medigap) options for their clients.
The new service allows Medicare agents to easily customize a medigap quote engine and add it to their website in minutes.
FreeMedicareReport.com helps consumers compare their insurance options. There are also thousands of Medicare agents across the country that help Medicare recipients understand their options.
FreeMedicareReport.com's new service will help these agents find their clients the best Medicare supplement plan in their area.
Reasons for creating this service:
1) Expand current website offering
2) Help agents compare options for clients
3) Provide clients instant quotes and pricing
4) Convert traffic into interested clients
5) Assist client relationship management
Expert star rankings for all carriers:
1) Accurate rate and carrier information
2) Companies ranked by market experience
3) Expected rate increases ranked
4) Financial stability reviewed for each carrier
5) Plan details and help articles
Medicare supplement insurance popularity grew by over 8% last year [CSG Actuarial]. Medigap insurance continues to grow in popularity because this policy addition to Medicare provides the most complete coverage to Medicare recipients.
If you are a Medicare supplement agent and would like more information about helping your clients quote Medicare supplement rates on your website, visit us here: https://www.freemedicarereport.com/learn/medigap-website-quoting.
If you would like more information about Medicare or a supplemental comparison report, visit us here: https://www.freemedicarereport.com/.