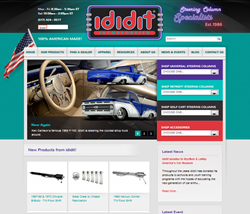 The SIA... is the premier creative marketing award for smaller firms.
Tecumseh, Michigan (PRWEB) January 31, 2014
Artonic, a web design and online marketing firm based in Tecumseh, Michigan, is pleased to announce that they have won the 2013 Summit International Awards (SIA) Marketing Effectiveness Award (MEA) for their creation of custom steering column specialists ididit Incorporated's website, viewable at http://www.ididitinc.com.
The SIA is dedicated to furthering and recognizing excellence in the marketing communications industry. The SIA oversees three distinguished advertising and marketing competitions to raise awareness of companies and individuals whose creative and marketing talents "go beyond the ordinary." The SIA is the oldest and most prestigious organization to administer advertising awards for limited billing firms and, throughout its twenty-year history, is established as the premier creative marketing award for smaller firms.
The MEA award recognizes companies for innovation and cutting-edge creative work. Honored businesses are committed to using strategic, results-based creativity to bring innovative solutions to today's marketing. The MEA focuses on the strength of the firm's creative approach, the strategies used to overcome barriers, how the company uses strategic planning and creative execution to draw the audience in, and whether or not the firm's creativity has successfully influenced, changed, or reinforced the knowledge or beliefs of the audience.
Artonic created ididit Incorporated's website from the ground up, using custom design to mirror the company's detailed, award-winning work in the hot rod market. Artonic utilized creative designs such as stitching that resembles a car's interior and neon lighting effects. The MEA-winning final product evidences its effectiveness by the ididt website's analytics data. This data shows a 57% bounce-rate decrease, 110% increase in visit duration, 188% increase in pages viewed per visit, and a 226% overall increase in page views.
Local entrepreneur Matt Harper founded Artonic in 2005. Since that time, Artonic has grown into a full-service Internet marketing and Web design company, employing graphic designers, Internet marketers, account executives, and Web developers. Artonic is the largest Web design company in Lenawee County, Michigan.