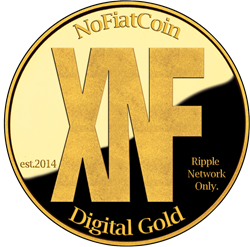 New York, NY (PRWEB) January 29, 2014
Yesterday, NoFiatCoin announced that Bitcoins (BTC) can now be exchanged for NoFiatCoins (XNF). This development is perhaps one of the most beneficial to the public so far. Not only will adopters have access to the Ripple Network through this service, but very importantly, they'll also be able to take advantage of the already established infrastructure that Bitcoin offers, one of them being the use of ATMs and the possibility to quickly go from X to cash and vice-versa.
Although shocking to some, NoFiatCoin is a big fan of Bitcoin. After all, the founder confessed, the project has been funded through the sales of Bitcoins and Gold. The company realizes that without Bitcoin, they would not be where they are today. It is for this reason that they want to take advantage of the benefits that Bitcoin's existing and future infrastructure offers. As stated by their CEO, "this update will help a lot of people who are interested in acquiring XNF or simply joining the Ripple network. This will translate into a bigger Ripple community since the initial funding of their Ripple wallet is one of the biggest hurdles of the exchanging process."
Bitcoiners can do the exchange even without having an active Ripple wallet and the XNF team will provide the needed XRPs for its activation. The process can be easily done through direct payment to NoFiatCoin's Bitcoin wallet. For information about the process, exchangers can visit the NoFiatCoin's How-To pages.
The addition of such important services come also with the recent establishment of a marketing team in Japan, led by Taketoki Ogawa, the new Marketing Manager of this region. Ogawa is a major supporter of digital currencies in Japan, having founded the first cryptocurrency blog in the country that happens to be very Ripple oriented. Taketoki will be an essential asset in the company's strategic expansion.
About the company:
NoFiatCoin | XNF is the first cryptocurrency backed by bullion, supported by decentralized exchanges, which provide another way in and out of the alternative currency world. Currently, the company has a Representative Office in Brazil, an Operations Center in Germany, a Trading and Holding company in Malta, and is expanding around the world through XNF Exchanges.