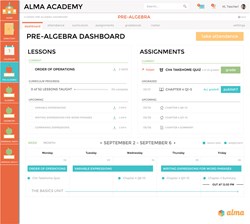 Portland, Ore. (PRWEB) February 03, 2014
Meet Alma, a modern and affordable alternative to the expensive and fragmented student information (SIS) and learning management systems (LMS) currently in use in K-12 schools. Launching today, Alma consolidates school, classroom and information management into one simple, intuitive and secure cloud-based system that minimizes busywork and improves efficiency. Alma's core services—including more than 100 SIS/LMS features, gradebooks and parent/student portals—are available for free.
Many school leaders and teachers are dissatisfied with their current LMS and SIS solutions—often frustrated with time-consuming and cumbersome tools that simply aren't addressing the needs of today's schools. Alma brings together and streamlines student information, learning management, and curriculum and lesson planning in one easy-to-use, personalized dashboard, saving educators' time and giving them better visibility into student learning and progress. Unlike other solutions, Alma combines administrative features with productivity tools, collectively designed to work the way administrators and teachers naturally work.
"Hundreds of educators have shared their frustrations over their existing tools with us, and we've listened," said Andrew Herman, CEO of Alma. "Alma gives administrators, teachers, parents and students the high-tech tools they demand with the modern user experience they deserve. We're inviting schools across the country to get to know Alma and see what a progressive, streamlined and flexible system can do for them."
Ten schools in New York, Pennsylvania, District of Columbia and Oregon have partnered with Alma to provide feedback and refine the development of the service during its prototype phase, and all have signed up to adopt the new version.
"In previous schools I've worked at, the management systems were clunky and hard for all the staff to learn to use," said James Lafferty-Furphy, director of operations of Creative Minds International Public Charter School in Washington, D.C. "Alma has a simple interface that's easy to use and lets you quickly see everything in one snapshot. Additionally, Alma's proficiency-based reporting is critical for us to track student performance and clearly communicate progress with parents. Since we use the International Primary Curriculum and incorporate project-based learning, we need a system that will enable us to report students' level of mastery on projects and coursework that touch on multiple standards and content areas at one time."
Alma offers an extensive range of core features, some of which include: student information; traditional, standards-based and proficiency-based gradebooks; report cards; attendance tracking and reporting; parent and student portals; integrated school calendar; messaging and emergency notifications; standards tracking; and curriculum and lesson planning.
In addition to the free core offerings, Alma offers a range of specialized and high-touch services, such as custom data migration, which are offered for a nominal fee, meeting the needs of a wide variety of institutional challenges and budgets. The company plans to introduce new features every one to two months based on educator feedback and schools' evolving needs.
As a cloud-based system, Alma requires no additional software to install or expensive hardware to maintain. The system is designed to ensure a smooth set up process and get schools up and running quickly, in as a little one day.
To ensure every school gets the highest caliber of hands-on training and support, availability of Alma in 2014 is limited to the first 500 schools nationwide that sign up. To learn more about Alma and its features, or to request a demo, visit http://www.getalma.com.
About Alma
Alma offers a new approach to student information and learning management. Alma replaces the expensive, fragmented systems in use in schools today with a simple and intuitive online system that minimizes busywork and improves school operations and student outcomes. Alma brings together student information, learning management, and curriculum and lesson planning in one place, saving educators' time and giving families better visibility into their students' learning. Best of all, Alma's core services are free – because every school, no matter how big or small its budget, should have access to the best tools available. Visit http://www.getalma.com to learn more or to sign up.